"Daddy, where's Mummy? Where is she, Daddy? Have we lost her?"
"Don't worry, Arthur. She'll catch up. We'll go to the cafe and wait for her." Dan wasn't worried. They always lost Beth in museums and galleries. She stopped at every bloody painting, pored over the brochure, and then peered into the picture, lost to the world. As usual. Where the hell was she now? The last time he had seen her she was looking dreamily at a painting of a garden, with a pond and some sort of bridge over it. To him, it had looked really boring.
Arthur pulled at his arm, "Daddy, can I have ice cream in the cafe? A bubblegum ice cream. Please, please...''
"Only if you're a good boy, but don't get it all over yourself this time or on me again. That bloody stuff is full of blue dye. You'll have to be careful, I've got my good suit on. You hear me?"
"Yes Daddy, I will, I promise." Arthur said, and skipped along holding tight on to his Dad's hand.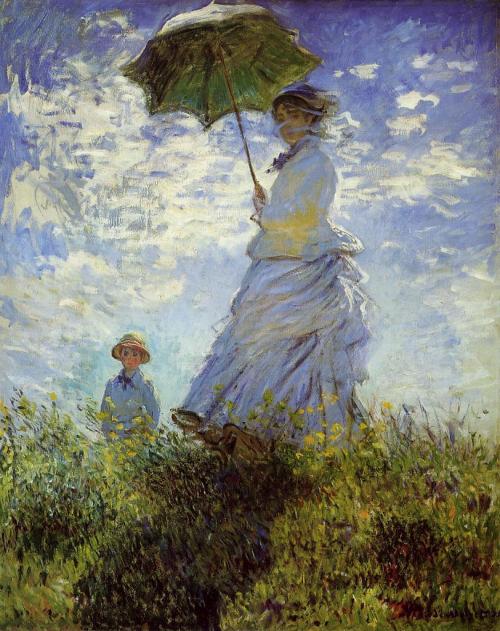 The National Gallery cafe was nearly empty. Arthur had devoured his large bubblegum ice cream cone, but now his blue-stained mouth was trembling. Tears were trailing through the creamy blue smudges on his cheeks and chin.
"Where is she, Daddy? Where's Mummy?"
Damned if he knew. Her cell had gone straight to voice mail. They'd have to go back and find her. Retrace all their steps. Bloody woman.
It was four-thirty, they still hadn't found her, and the gallery would be closing soon. They had been around it all twice.
Arthur clung to Dan and sniveled into his damp rumpled suit. "I want Mummy," he cried.
"I know, Arthur, I know. We'll find her, buddy." He hoped.
Would Beth do it again? Maybe lose herself for good this time? He knew she wasn't happy. But it wasn't all his fault. Goddamn her. He did his best. Someone had to be the sensible one in the family.
Would the bridge painting have tempted her? It was time to go back and have a better look at it, but he didn't want to worry Arthur. Dan gingerly grasped his son's sticky blue hand as they walked slowly towards a Monet painting on the back wall.
A brochure lay discarded on the floor. Dan's heart skipped a beat as he drew closer to the painting of the bridge. It looked different. Was that a tiny figure on the bridge? The bridge had been empty before, hadn't it? Dan thought the shadowy and indistinct figure looked like a woman. Could it be Beth? The figure's arm was raised. It seemed to be beckoning to them.
Arthur tore from his hand, and ran towards the painting. "Its Mummy."
"No Arthur, wait, stay here. Arthur!"
Arthur crashed into the wall, clambering up with his hands towards the ornate gilt frame. His sticky pudgy blue fingers gripped on to the frame. Dan saw the painted figure on the bridge shift, and the paint rippled, the figure's hand grew larger, bulging out of the painting.
The painted hand gripped Arthur's. Dan dashed forward, desperately reaching out to his dangling son. But Arthur's body suddenly flattened and began to flow with his mother's hand back into the painting, melding into the oily surface, creeping up towards the bridge.
Dan stood numbly, glaring at the painting. How could she? How could she take Arthur? Stupid, selfish woman. Dan's hands felt empty and cold as he stared helplessly at the blue ice-cream smears on the wall. Then he tentatively stepped forward and peered deep into the painting.
Two shadowy gray figures now stood on the bridge, a little figure was holding on to a bigger figure. Both of them seemed to be looking straight at him. The bigger figure still had its right arm outstretched, beckoning and inviting. The sun-speckled painting looked lush and beautiful. The pond was banked by yellow-green foliage, and a delicate dark green bridge spanned the sparkling blue water. Pale pink and white water lilies calmly floated on the pond's surface. It looked so peaceful and inviting, so tempting, like a Garden of Eden. He could almost feel the warmth of the sun, hear the soft ripple of the water, and smell the sweet scent of the flowers.
Breaking News in the Art World, London Daily News
Three figures have been added to the Monet "Japanese Footbridge" painting, which hangs in the National Gallery, London. A family of three now stands on the bridge, gazing down into the pond. Their faces are clear, and the figures are distinct. A man stands with his arm around a woman, and a little boy stands between them. Their clothes look oddly modern and the boy has strange blue streaks on his face.
Art experts say these figures were definitely not in the painting before and have no explanation as to how the figures got there. Investigation is underway.
Sarah Brisley
lives in Burlington, Ontario, and has worked in various clerical, banking and secretarial positions within the GTA for 38 years. She is currently unemployed but is enjoying having some time to write, paint and draw. Recently she has become a new grandmother, to a lovely little five-month old grandson called Arthur.
See Brian Henry's schedule
here
,
including writing workshops and creative writing courses in
Barrie, Brampton, Bolton, Burlington, Caledon, Cambridge, Collingwood, Georgetown, Guelph, Hamilton, Kingston, London, Midland, Mississauga, Newmarket, Niagara on the Lake, Orillia, Oakville, Ottawa, Peterborough, St. Catharines, Sudbury, Thessalon, Toronto, Windsor, Halton, Kitchener-Waterloo, Muskoka, Peel, Simcoe, York, the GTA, Ontario and beyond.