Fifty-nine hours.

That's how long it will take Edward to get to Saskatoon. A short ride into Toronto, then a transfer at Union Station for the long trans-continental haul. On Monday morning he dresses in his best suit and walks to the train station. He smiles at the strangers he passes, trying to take his mind off Annie, but her presence is with him wherever he goes.
Before Annie passed away in February, she made him promise he'd go to Saskatoon for his cousin John's seventy-fifth birthday on October fifteenth. Immediately after her diagnosis, Annie began worrying about Edward being on his own. He'd wanted to have children, but Annie never did, so it was always just the two of them.
"Promise me you'll go and surprise John for his birthday. You can join him for whatever he has planned," she said.
"But I haven't seen him since we went to Saskatchewan for the family reunion. That was over ten years ago," he replied.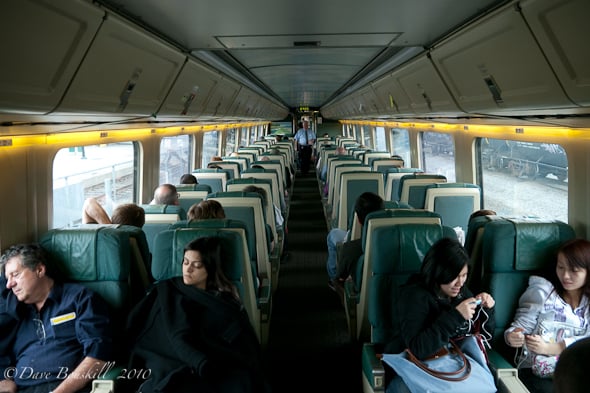 "Edward, you and John were inseparable when you were young. You know he and Angela will be happy to see you. Besides, it'll be good for you."
Annie convinced him it was the right thing to do, the way she convinced him of so many things over the years. That's why he's about to get on the train for more than two days, and arrive unannounced back home in Saskatchewan.
The clock above the tracks shows it's time to board. Once in his seat, he makes himself as comfortable as possible. He briefly thinks he should've booked a sleeper car but knows Annie wouldn't have approved.
He can almost hear her saying, "Edward, you can sleep perfectly well in your seat. Don't be silly by wasting money on a sleeper car when you don't need one."
It's the familiarity of Annie's company he misses most. The way they used to read the paper together every morning, passing each other a section once they'd finished. The lengthy discussions that followed, about what Trudeau was up to or Trump's never-ending antics. The days are quiet now without Annie's voice filling the home they shared for forty-seven years.
Nights aren't any better. Most of the time he doesn't sleep more than three or four hours. Making the bed each morning is an easy job now, given one side's always still made.
After the first few hours of the train ride, he longs to take his shoes off. He can feel his feet swelling and beginning to ache, but again he hears Annie's voice. This time she's telling him a gentleman doesn't remove his shoes in public, so he restrains himself, much like he's done so many times over the years.
He and Annie went to Mexico every winter, even though he longed to visit Vancouver in the fall.

They watched Dancing with the Stars, not CSI. He ate the Hungarian salami she chose at the deli, instead of the Genoa salami he prefers. They stayed in Ottawa where Annie was from, rather than moving to the prairies to care for his ailing parents, all those years ago. It was his own parents who'd taught him that's what marriage is about. Making sacrifices for the other.
The train pulls into Saskatoon just before four on Wednesday afternoon and Edward takes a taxi to a nearby hotel. Once in the privacy of his room, he's eases off his shoes. His feet are so sore that walking to the washroom to take a bath is an effort. He never should've left his shoes on for more than two days, regardless of what Annie would've said.
After his bath, he locates the phone book and begins looking for his surname. There are two listings, one of whom is his cousin John. The other is a woman named Celeste. Not wanting to ruin the surprise by letting John and Angela know he's in town, he dials Celeste's number, thinking she might be their granddaughter. She answers on the third ring.
"Hello. My name is Edward Lanigan. I believe we may be related. Are you John and Angela Lanigan's granddaughter?"
"Yes, I am," she replies.
"Wonderful! I'm John's cousin. I've come to surprise him for his birthday."
"Oh!" she says. Then after a pause: "I'm sorry to tell you, but he and Grandma are out of town right now. They flew to Toronto last week to visit family."
"Ah." Edward feels as if he's falling, with nothing to hold on to. He reaches for a jocular tone. "So no party then?"
"W
e had a party for Grandpa last summer. Really small, "she adds. "Look, I hope you didn't travel far to be here."
Edward holds his breath for a moment, realizing he's come all this way for a party that's already happened. One he hadn't been invited to. Now John and Angela have gone to Toronto, an hour from where he lives, and they didn't contact him to arrange a visit.
He feels momentarily foolish for the promise he made to Annie. What was he thinking, coming all this way without so much as a phone call? Why did it have to be a surprise visit anyway? He never did ask Annie. He'd just done as she asked; like always.
"No, I didn't travel far at all," Edward says.
They hang up and Edward sinks into the bed, yawning with exhaustion. He realizes he doesn't feel Annie's absence quite as strongly here. There are no reminders of her across the room or down the hall. Soon he falls into a deep sleep and dreams of the ocean.
The next morning, he returns to the station and buys a ticket for an earlier departure. After finding his seat, he sets the Genoa salami sandwich he bought at the bakery across the street, on the tray in front of him
.
He then bends forward and slowly unties his shoes, placing his socked feet on the footrest. A young family is sitting across the aisle. Edward plays a game of peekaboo with the little boy, whose mother asks if he's also headed to Vancouver.
"Indeed," Edward says. "I've always heard it's lovely there this time of year."
Michelle Eaket
grew up in Saskatchewan and now lives in Toronto with her husband and two children. This story was inspired by her distant relative's cross-Canada train ride in the mid 90's to surprise her grandparents on their 50th wedding anniversary. She always wondered what led him to make that trip, so this is her imagined version of a similar journey.
See Brian Henry's schedule
here
,
including writing workshops, weekly writing classes, and weekend retreats in, Bolton, Barrie, Brampton, Burlington, Caledon, Collingwood, Cambridge, Georgetown, Georgina, Guelph, Hamilton, Jackson's Point, Kingston, Kitchener-Waterloo, London, Midland, Mississauga, Oakville, Ottawa, Peterborough, St. Catharines, Saint John, NB, Sudbury, Toronto, Windsor, Woodstock, Halton, Muskoka, Peel, Simcoe, York Region, the GTA, Ontario and beyond.