The Awakening, a YA novel by Kelley Armstrong,
a New York Times #1 bestselling author
and one of Brian's students
The
Collingwood Public Library
presents....
Writing for Children & for Young Adults ~ the world's hottest market
Saturday
, August 12, 2017
10 a.m. – 4 p.m.
Collingwood Public Library, 55 Ste Marie St, Collingwood
, Ontario (Map
here
)
Note: Starting in September, I'm offering a weekly
Writing Kid Lit
course. See

here

. ~Brian
If you want to write the next best-selling children's books
or just want to create stories for your own kids, this workshop is for you. Learn how to write stories kids and young adults will love and find out what you need to know to sell your book.
Special option:
You may, but don't have to, bring 3 copies of the opening couple pages (first 500 words) of your children's book or young adult novel (or 1,000 words if that will get you to the end of your picture book or to the end of your first chapter.) If you're not currently working on a children's story, don't worry, we'll get you started on the spot!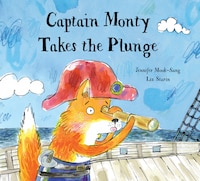 Captain Monty Takes the Plunge,
a picture book by Jennifer Mook-Sang,
one of Brian's students
Workshop leader
Brian Henry
has been a book editor and creative writing instructor for more than 25 years. He teaches at Ryerson University and has led workshops everywhere from Boston to Buffalo and from Sarnia to Saint John. He publishes Quick Brown Fox,
Canada's most popular blog for writers and is the author of a children's version of Dr. Jekyll and Mr. Hyde (Tribute Publishing).
But his proudest boast is that he's helped many of his students get published.
Fee:
43.36 + 13% hst = 49 paid in advance by mail or Interac
or 46.90 + 13% hst = 53 if you wait to pay at the door
See Brian's current complete schedule
here
,
including writing workshops and creative writing courses in Algonquin Park, Bolton, Barrie, Brampton, Burlington, Caledon, Georgetown, Guelph, Hamilton, Ingersoll, Kingston, Kitchener, London, Midland, Mississauga, Oakville, Ottawa, Peterborough, St. Catharines, Saint John, NB, Sudbury, Thessalon, Toronto, Windsor, Woodstock, Halton, Kitchener-Waterloo, Muskoka, Peel, Simcoe, York Region, the GTA, Ontario and beyond.