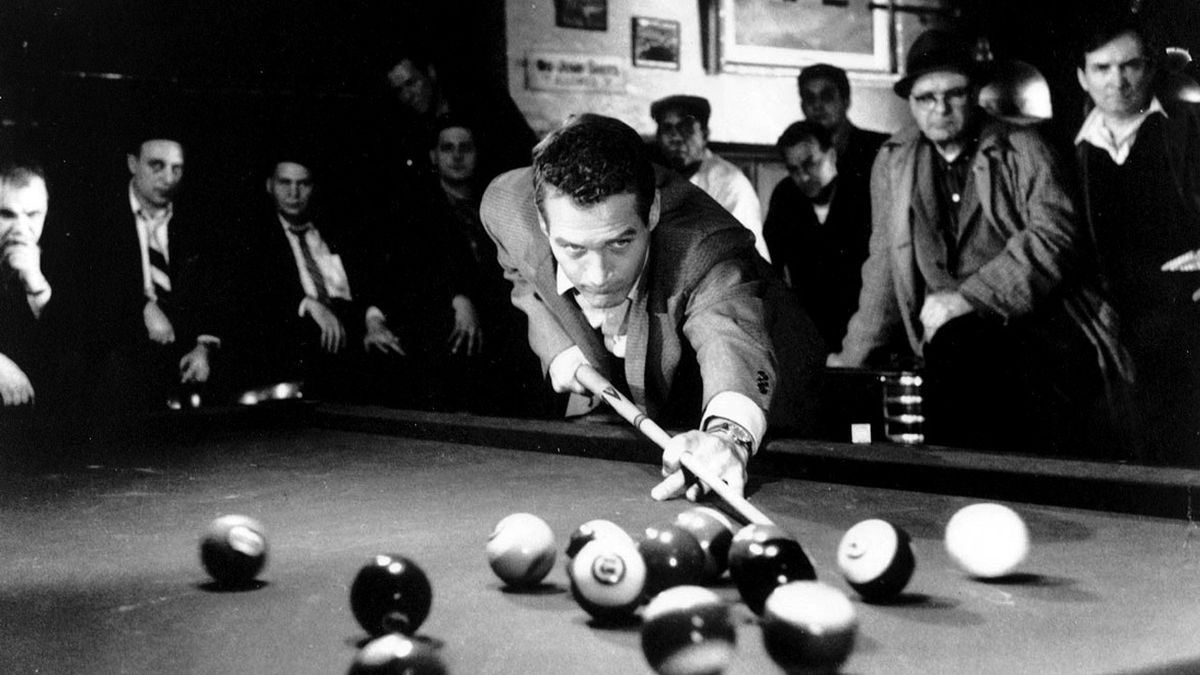 I learned to shoot pool when I was about sixteen years old. In those days, pool rooms were typically upstairs in a building or in the back of a bar somewhere downtown. I began my "career" in a smoky room containing about six tables, playing Boston or Eight-Ball. Playing for money I didn't always have in my pocket taught me to know my limitations but also to figure out the skillsets of proposed opponents.
Pool at that level was not the most honorable of games. "Hustling" unsuspecting victims who had never seen me play or beating those of my compatriots who were not quite as good as they thought they were became fairly lucrative and kept me in gas money.
My older brother eventually introduced me to a much more honorable and sophisticated game called Snooker. That game is played on a much larger, six by twelve-foot table, with smaller balls and pockets that at times seem just slightly smaller than the balls. I immediately fell in love with the sound the snooker balls made when entering the pocket and became pretty well exclusively a snooker player.
During my last two years at home, before heading off to university, a new, modern and clean facility called "the Cue and Cushion" opened. That facility attracted a bit higher class group of players, some of whom were very skilled. The facility hosted a number of local tournaments and if one was fortunate enough to win one of those, he got to play in similar tournaments in other venues around the province.
Cliff Thorburn
I represented our facility once in a tournament in Toronto and was fortunate to play against a young guy named Cliff Thorburn from Toronto. For those of you who might follow the game, you will certainly recognize that name. Cliff went on to become a professional player, amassing many Canadian, North American and other country championships in the 70s, 80s and 90s.
His career pinnacle win was the World Championship in 1983, where he scored what is called a "perfect break." He is one of only a handful of players to do so in world championship play.
In snooker, there are fifteen red balls on the table, each worth one point. There are also six coloured balls, with values ranging from two for the yellow ball to eight for the black ball. A perfect break occurs when a player makes all fifteen red balls in succession, with a black ball following each red. Once the reds are gone, then each of the coloured balls are shot in a required sequence – total score is 147. Think of it like making a hole-in-one in golf, except there's no luck in a perfect break.
Needless to say, Cliff made short work of me the day he and I played but I learned a lot about humility that day and saw what a gentleman he truly was - and still is.
I continued to play pool after my humbling defeat and was fortunate enough to pay most of my university tuition playing the game during my tenure as a student at Wilfred Laurier University in Waterloo.
Fast forward to 2013; a golf tournament at a club just north of Oakville. I looked at the draw sheet and noticed I was paired with a player by the name of Cliff Thorburn. I wondered, Could it be the same Cliff Thorburn?
My question was answered when I was joined on the tee by an individual I recognized immediately as that guy who had humbled me so many years ago; yet left such a positive impression on me. As we walked down the fairway on the second hole, I casually asked him if he remembered his days of tournament snooker in Toronto – more specifically, did he remember that he and I played against each other in a tournament back in the 60s.
His immediate response was "I don't owe you any money, do I?" – classic Cliff Thorburn, who to this day retains his humility, good sense of humour and ability to put people at ease.
Cliff Thorburn
Cliff and I have become friends since that day. Fast forward again to three years ago… the golf club where Cliff and I are members installed a pool table in the lounge, where a "league" of sorts was established among the members. Cliff and I will play together occasionally but so far, we have not been able to convince anyone to play as a team against us for money.
Our club has a Member-Guest tournament every year and two years ago after golf, Cliff put on an exhibition on the pool table, much to the delight of everyone there. I was fortunate enough to be seated at the same table as him and his guest – another world class player by the name of Kirk Stevens, with whom Cliff has shared a number of World Doubles championships. Also at the table was the individual who has maintained Cliff's cues throughout his career.
Naturally, main topic of discussion over dinner was pool and we enjoyed many stories of their time on the circuit. One thing led to another and I suddenly found myself partnered in a team game with Kirk, against Cliff and his cue manager. While clearly not being able to hold a candle to their skills, I do still play a couple of times a week at a local Seniors' Centre so my game has remained decent. Nevertheless, I hadn't played in front of 100 or so people for a long time and I was decidedly nervous.
The game was best of three (Eight-Ball). Long story short, I called my wife on the way home from the club that night and said, "If my life as a pool player ended today, I would be a happy man."
"What are you babbling about?" she said. "I thought you were at a golf tournament?"
"I've been waiting over forty years to kick Thorburn's ass," I said, "and we just beat him and his partner two out of three games!"
You may be wondering about the title of this piece – Cliff is known to be – to be polite – a deliberate player on the golf course. Translation – he's very slow. Well, while doing research for this story, I learned that on the world snooker circuit, Cliff was also "deliberate", never taking a shot until looking at it from all angles; then sighting in the shot, slowly drawing the cue back…well you get the picture. Hence, his nickname on the circuit - "the Grinder."
I'm proud to call him my friend.
Larry Davies
lives in Oakville, Ontario. He's been marries 49 years and has two children and one grandchild. His hobbies include golf, billiards, and writing.
See Brian Henry's schedule
here
,
including writing workshops, weekly writing classes, and weekend retreats in Algonquin Park, Bolton, Barrie, Brampton, Burlington, Caledon, Georgetown, Guelph, Hamilton, Ingersoll, Kingston, Kitchener, London, Midland, Mississauga, Oakville, Ottawa, Peterborough, St. Catharines, Saint John, NB, Sudbury, Toronto, Windsor, Woodstock, Halton, Kitchener-Waterloo, Muskoka, Peel, Simcoe, York Region, the GTA, Ontario and beyond.