CommuterLit
is an on-line literary journal for readers on the go. It

posts a new short story, novel excerpt or poem each day from Monday to Friday, specially formatted to read on a mobile device (smart phones, iPads, Blackberries). Of course, you can also access the stories and poems from the

CommuterLit.com

website at any time.
The focus is on works of fiction or poetry that can be enjoyed during a 20- to 30-minute public-transit commute to work, specifically

short stories, novel excerpts and poetry (one poem or a series of poems), in any genre, with a word count of 500 to 4,000. On occasion they run stories and excerpts up to 12,000 words in length, serializing the story and running it over a number of days.
There's a Donate button, too, so that contributors can get paid.
CommuterLit is always looking for pieces. Guidelines

here

.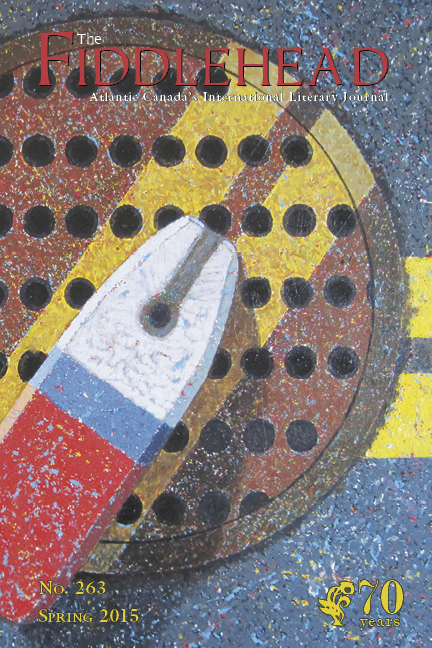 The Fiddlehead
is Canada's longest living literary journal. Established in 1945, it's published four times a year at the University of New Brunswick, and includes
short stories, poems, book reviews, and a small number of creative non-fiction pieces. It's
always looking for freshness and surprise and welcomes new unsolicited works in fiction and poetry. Work is read on an ongoing basis and response time is typically from three to nine months.
See the submissions page

here

.
The Fiddlehead also has an annual contest for poetry and short fiction, with $2,500 in prizes for each. The entry fee is $30 which includes a one-year subscription to The Fiddlehead. The theme this year is "Tell it slant," and the deadline is December 1, 2015. Full contest rules

here

.
Finally: "This year, as part of its 70th anniversary, we're looking for submissions from readers about their relationship with

The Fiddlehead.

Email us (max. 250 words) at thefiddlehead@gmail.com

and let us know why you read

The Fiddlehead. What has it meant to you? What was the first issue you read? What exciting literary voices did you discover? Select submissions will be published in upcoming issues and online. Submissions may be edited for space considerations. Contributors will receive a complimentary copy!"
Mud Season Review
a community-led literary journal in Vermont, invites fiction, poetry, nonfiction, and art for upcoming issues. Appreciates work that teaches something about life, and explores new ways of perceiving the world or about the craft of writing or visual art. Accepts stories up to 7,000 words. For more of what the editor is looking for, see here.
Deadline: Rolling. Guidelines
here
.
Note: Don't ever miss a post on Quick Brown Fox. Fill in your email in the box to the right under my bio, and get each post delivered to your Inbox. ~ Brian
Penny Shorts likes animal stories, too
Penny Shorts
is an online British publisher of short fiction (and memoir). Readers prepay
£12
for 50 stories or pay by the click, one story at a time. Writers get paid for each download.
All genres accepted, including Action/Adventure, Crime/Detective, Fantasy, Ghost stories
– e
verything except children's stories. Minimum length 1,000 words, no maximum. Submit stories to:
editor@pennyshorts.com
See Brian Henry's schedule
here
,
including writing workshops and creative writing courses in Algonquin Park, Barrie, Brampton, Bolton, Burlington, Caledon, Cambridge, Collingwood, Georgetown, Guelph, Hamilton, Kingston, London, Midland, Mississauga, Newmarket, Orillia, Oakville, Ottawa, Peterborough, St. Catharines, Sudbury, Toronto, Halton, Kitchener-Waterloo, Muskoka, Peel, Simcoe, York, the GTA, Ontario and beyond.