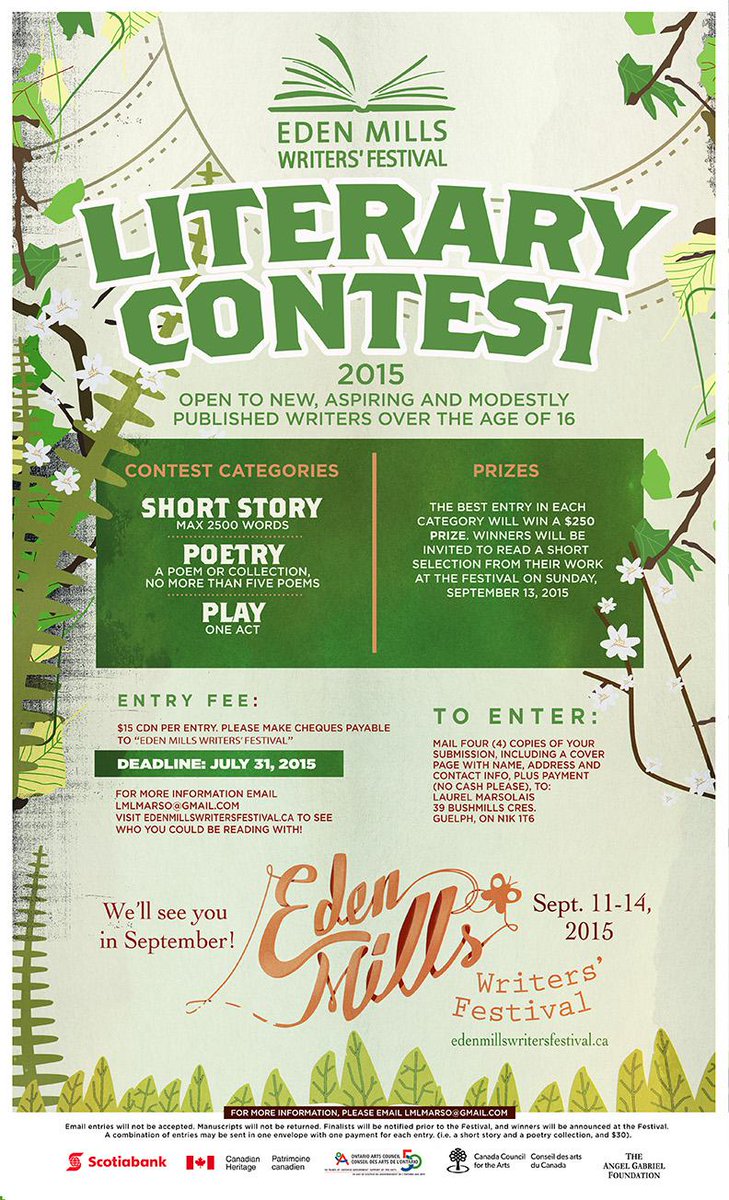 Note:
Don't ever miss a post on Quick Brown Fox. Fill in your email in the box to the right under my bio, and get each post delivered to your Inbox. ~ Brian
Eden Mills Writers' Festival Literary Contest
Open internationally to aspiring or and modestly published writers, over the age of 16.
Contest categories: Short story (2500 words max.), Poetry collection (of 5 poems or less), or
One-act play. The best entry in each category will win a $250 prize. Winners will be invited to read a short selection of one to two minutes from their work at the Eden Mills Writers Festival on Sunday Sept. 13, 2015. Submission Fee: $15.00 (CDN) per entry.
Eden Mills is also running poetry contests for teens and children (deadline July 31) and a Fringe Contest (deadline Aug 2).
Guidelines for all Eden Mills contests
here

.
Could you please post a notice about the Dream Quest One poetry and short story contest?
Dream Quest One Contests – summer 2014
Write a poem, thirty lines or fewer on any subject, or write a short story of five pages maximum (single or double line spacing), on any subject or theme, fiction or non-fiction. Multiple entries accepted.
Writing contest – 1st $500, 2nd $250, 3rd $100;
Poetry contest – 1st $250, 2nd $125, 3rd $50
All winners will be published online in the Dare to Dream pages, on September 20, 2014.
Entry fee: $10/short story, $5/poem.
Deadline: July 31, 2014. Complete rules here

.
John Kenneth Galbraith, economist
and adviser to President Kennedy
John Kenneth Galbraith Literary Award

writing contest

~ $2,000 prize.

I highly recommend this contest. ~ Brian
The Friends of Dutton-Dunwich are happy to announce their 2015 Writing Contest which is open to any Canadian author. The winners are announced and celebrated at a gala ceremony to honour Dunwich's son, John Kenneth Galbraith, noted economist, statesman and author. It's a grand evening of readings, music, good friends and refreshments. This great time is open to the authors and the public at no charge
Word count limited to 3,000 to 3,500 words.
Entry fee: $10.
Semi-annual print journal
Passion: Poetry
welcomes submissions for their next issue. Accepts poetry, photography and artistic images. Theme: Love, nature, and learning.
Deadline:

August 1, 2014

. Guidelines
here
.
See Brian Henry's schedule
here
,
including writing workshops and creative writing courses in

Barrie, Brampton, Bolton, Burlington, Caledon, Cambridge, Collingwood, Georgetown, Guelph, Hamilton, Kingston, London, Midland, Mississauga, Newmarket, Niagara on the Lake, Orillia, Oakville, Ottawa, Peterborough, St. Catharines, Sudbury, Thessalon, Toronto, Windsor, Halton, Kitchener-Waterloo, Muskoka, Peel, Simcoe, York, the GTA, Ontario and beyon

d.