Soul of a Warrior by Denna Holm
from Crimson Cloak Publishing
Note:
D
on't ever miss a post on Quick Brown Fox. Fill in the "Follow Brian by Email" box to the right under my bio and get each post delivered to your Inbox. Also, you can hang out and chat with Quick Brown Foxes (and vixens) on Facebook. Just send a Friend request to Brian Henry. Finally, if you're not yet on my newsletter, send me an email, including your locale, to
brianhenry@sympatico.ca
~Brian
Crimson Cloak Publishing
seeks short stories on the theme of death for an upcoming anthology:
Crimson Endings.
Stories might be western shootouts, ghost stories, murder mysteries and the like. Royalty split will be per author so they ask that each piece be a minimum of around 6,000 words, but aside from that you may let your imagination run riot! The book will be readied for publication once they have enough submissions.
Send your story to:
carly@crimsoncloakpublishing.com
Deadline:
The sooner, the better. Guidelines
here
.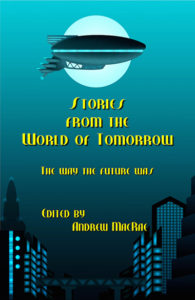 Stories From the World of Tomorrow
from Darkhouse Books
Shhhh… Murder!
Cozy to cozy-noir stories featuring libraries and librarians.
Extra points will be shamelessly awarded to writers with personal ties to libraries. (There need not be a murder in the story.)

S

tories should be 2,500 to 5,000 words, but they'll consider stories outside that range. Previously published stories accepted, as long as they were published before May 2017.
Pays
50% of royalties.
Sanctuary:
Poetry, flash fiction, short fiction, and creative nonfiction reflecting the theme of sanctuary, refuge, shelter, or asylum, from the perspective of those offering, seeking, denying, or destroying sanctuary. Previously published pieces accepted as long as they were published at least a year before you submit. Pays 50% or royalties.
Deadline
:
February 28, 2018. Guidelines
here
.
The Toronto Star
free
Short Story Contest
Nina Dragicevic
winner of the 2017 Toronto Star Short Story Contest
No entry fee; $9,000 in prizes, plus free creative writing course from The Humber School of Writers. (Yes, I know, the Humber courses aren't as good as a Quick Brown Fox courses, but they are a lot more expensive.)
The winner will receive $5,000 and a creative writing course from The Humber School for Writers.
The second-place winner will take home a $2,000 prize, while third place will be awarded $1,000.
The winner can choose a 30-week creative writing correspondence program, valued at $3,000, at Humber, or a week-long summer workshop, worth $1,000, at the college's Lakeshore campus in Toronto.
Stories can be about any topic the entrant chooses, as long as it's original, unpublished, and amounts to less than 2,500 words. Entries are limited to one per person.
Submissions will be judged by a panel of the Humber School for Writers and narrowed down to a short list. The three winners will then be selected from that list by city librarian Vickery Bowles, award-winning author and journalist Kamal Al-Solaylee, Toronto Star books editor Deborah Dundas, and the Star's former theatre critic Richard Ouzounian.
Last year's winner, Nina Dragicevic, has some advice for those entering this year: "Lock yourself in a room without interruptions. No husbands, no dogs, no internet. Make strong coffee."
Deadline: February 28.
Complete rules

here

.
Ninth Letter
Seeks fiction and essays (to 3,500 words) and poetry (up to 3 poems) They want "prose and poetry that experiment with form, narrative, and nontraditional subject matter, as well as more traditional literary work.
"The theme for this issue is
Community.
Without all of us, we're nothing. What does community mean to you? Send us your work that remembers where it came from, that knows it takes a village, that knows the power of common ground and common concerns. Show us your factions, your fellowships, your (inter)dependence, your cliques. Show us your roots, your beliefs, your needs, and who you share them with. Show us what it means to be better together."
Pays $25 per page.
Deadline
: February 28, 2018. Guidelines

here

.
As always,
Chicken Soup for the Soul
is looking for true stories and poetry. Currently, they're acquiring pieces for three anthologies:
Our next holiday collection will not be released until 2018 but we are already collecting stories for it. We want to hear about your traditions and how they came to be. We want to hear about your holiday memories and the rituals that create the foundation of your life. We love to hear about the funny things too: the ugly holiday sweaters, the gingerbread house that kept falling down, the re-gifting embarrassments and the fruit cake disasters. Please be sure your stories are "Santa safe" so we don't spoil the magic for any precocious young readers.
Deadline January 30, 2018
.
The Best Advice I Ever Heard
We are looking for stories that contain a great piece of advice that you were given or advice that you gave to someone else. Whether the advice is about a little thing that improve your everyday life, or major epiphanies that can change a life completely, we want to hear about them and how they made a difference.
Here are some topics, but there are many more that we know you can think of:
• Career choices or changes
• Personal relationships – family or friends
• Parenting
• School
• Travel
• Moving to a new place
• Buying or selling your house
• Setting priorities
• Health and fitness
• Finances
• Taking chances
• Co-dependence and tough love
• Following your passion
• Taking risks
• Trying new things
• Simplifying your life
• Using gratitude
• Forgiving someone… or yourself
Deadline: February 28, 2018
We are collecting stories and poems written by sons and daughters of all ages about their moms, step-moms,
grand-moms
or someone that is "like a mom" to you. Tell us what this special person has done for you. Is she always right? Do you still turn to her for advice? Does she annoy you with her advice? Have you become your mom even though you swore you never would? How has your relationship changed as you've gotten older? Share your best stories – ones that will make us laugh, cry, or nod our heads in recognition. We are not looking for general tributes (we know your mom is terrific) nor are we looking for biographies. We are looking for specific anecdotes about you and your mom or step-mom or grand-mom.
Deadline September 30, 2018.
Guidelines for all upcoming Chicken Soup anthologies
here

.
The New Quarterly
publishes p
oetry, fiction, and creative nonfiction. TNQ pays $250 for a short story or nonfiction entry, and $40 per poem or postscript story.
Deadline
: On-going.
Guidelines
here
.
See Brian Henry's schedule
here
,
including writing workshops and creative writing courses in Algonquin Park, Bolton, Barrie, Brampton, Burlington, Caledon, Georgetown, Guelph, Hamilton, Ingersoll, Kingston, Kitchener, London, Midland, Mississauga, Oakville, Ottawa, Peterborough, St. Catharines, Saint John, NB, Sudbury, Thessalon, Toronto, Windsor, Woodstock, Halton, Kitchener-Waterloo, Muskoka, Peel, Simcoe, York Region, the GTA, Ontario and beyond.