The

Beloit Fiction Journal

(US) seeks contemporary short fiction, including traditional and experimental narratives. Very long and very short stories welcome.
Deadline: December 1, 2013.
Guidelines

here

.
Red Tuque Books

,
presents the
2013 Canadian Tales of the Fantastic Short Story Competition.
Writers of short fiction are encouraged to enter the Red Tuque Books 2013 Short Story Competition. The total prize money to be awarded is $1,000.00. The first, second and third place stories will be selected by accomplished writers. The Finalist judges for this competition have yet to be announced.
Deadline Dec 31.
Contest details
here
.
The Prairie Journal
is published out of Calgary, Alberta.

Since 1983

, it

has been publishing quality poetry, short fiction, drama, literary criticism, reviews, bibliography, interviews, profiles and artwork.
Full submission guidelines

here

.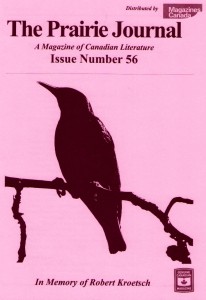 Voicings
is a biannual literary magazine published both in print and electronically. It is designed to provide an avenue for talented Aboriginal writers living in Canada to publish their work, as well as to provide the public with greater access to indigenous writing.

Voicings publishes original short stories, creative nonfiction, poetry and art, from those who identify as Aboriginal and who live in Canada.
"We look for work that is powerful, creative, and thought-provoking."
Quarterly online journal
The Mackinac
(Canada/US) seeks poetry that "bridges the strait between nostalgia and the immediate, the wilds seen and unseen, the best of emerging and established voices." Submit up to 5 poems for consideration.
Deadline: Ongoing.
Guidelines
here
.
Sweptmedia.ca
(Canada), an online youth-culture magazine based in Toronto and the GTA, is looking to expand their creative writing section to include fiction. Swept is most interested in short stories, but will consider other fiction contributions (must be engaging and well-edited).
See Brian Henry's schedule
here
,
including writing workshops and creative writing courses in Ottawa, Kingston, Peterborough, Toronto, Mississauga, Brampton, Bolton, Bolton, Caledon, Georgetown, Oakville, Burlington, St. Catharines, Hamilton, Guelph, London, Orangeville, Newmarket, Barrie, Midland, Orillia, Thessalon, Algoma, Kitchener-Waterloo, Sudbury, Muskoka, Peel, Halton, the GTA, Ontario and beyond.