How to Write Great Dialogue
The writer's most important tool
Saturday, November 21, 2015
1:00 a.m. – 4:30 p.m.
Ingersoll Public Library
, 130 Oxford Street, Ingersoll, Ontario (Map
here
)
Accessible to beginners
and meaty enough for experienced writers, this workshop will show you how to use dialogue to make your stories more dynamic and dramatic.
Whether you're writing fiction or memoir, you need to be able to write great dialogue that both sounds natural and packs dramatic punch, and you need to know how to mix your dialogue and narrative so that your characters come alive. Come to this workshop and learn both the basics and the best tricks of the trade.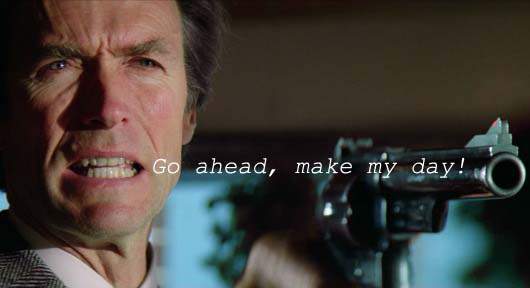 Clint Eastwood gets some of the best dialogue in Hollywood
Workshop leader
Brian Henry
has been a book editor and creative writing instructor for more than 25 years. He publishes Quick Brown Fox, Canada's most popular blog for writers, teaches creative writing at Ryerson University and has led workshops everywhere from Boston to Buffalo and from Sarnia to Charlottetown.
But his proudest boast is that he
has helped many of his students get their first book published and launch their careers as authors.
Read reviews of Brian's weekly courses and Saturday workshops
here
.
Fee:
34.51 + hst =
39
in advance or 37.17 + hst =
42
if you wait to pay at the door
Note:
Don't ever miss a post on Quick Brown Fox. Fill in your email in the box to the right under my bio, and get each post delivered to your Inbox. ~ Brian
See Brian's full schedule
here
,
including writing workshops and creative writing courses in Algonquin Park,
Barrie, Bracebridge, Brampton, Burlington, Caledon, Cambridge, Collingwood, Georgetown, Guelph, Hamilton, Ingersoll, Kingston, London, Midland, Mississauga, Newmarket, Orillia, Oakville, Ottawa, Peterborough, St. Catharines, Sudbury, Thessalon, Toronto, Windsor, Halton, Kitchener-Waterloo, Muskoka, Peel, Simcoe, York, the GTA, Ontario and beyond.