Note:
Don't ever miss a post on Quick Brown Fox. Fill in your email in the box to the right under my bio and get each post delivered to your Inbox. Also, if you're not yet on my newsletter, send me an email, including your locale, to:
brianhenry@sympatico.ca
~ Brian
The Southern Review
(Baton Rouge, Louisiana) seeks poetry.

Pays $25 U.S. per page (maximum $200) plus two copies of the issue in which your poetry appears and a one-year subscription.
Deadline
: February 1, 2017.
Full submission guidelines

here

.
The First Line
literary quarterly wants 300 – 5,000-word stories beginning with the line: "Eddie tended to drift into whatever jobs were available that would pay the rent." Also seeks 500 – 800-word critical essays about your favorite first line from a literary work. Pays: $25 – $50 for fiction, $5 – $10 for poetry, and $25 for nonfiction (all U.S. dollars).
Deadline
: February 1, 2017.
Summer: "
The plan suddenly made sense." Due date: May 1
Fall: "
Frank Rooney had been the manager of the Shop & Save for thirty-eight years, and he wasn't retiring anytime soon." Due date: August 1
Winter:
"I'm tired of trying to see the good in people." Due date: November 1
Full submission guidelines

here

.
Skirt!
publishes two personal essays every month on topics relating to women and women's interests. All essays should be submitted in their entirety and be between 800 and 1,100 words.
Pays
$200.
Currently wants essays about traveling, wandering, the wonder of our great big world. Deadline: February 1, 2017.
For May issue: Stories about the creative spark, finding your calling, the work you love.
Deadline March 1
For June issue: Stories about big deals, extravagance, beauty, what takes your breath away.
Deadline April 1.
For July issue: Essays about all thing summer! From bugs to backpacking. Deadline May 1.
For Aug issue: Stories about celebration, milestones, wins, achievements, the best of times.
Deadline June 1
For Sept issue: Stories about the physical; body and mind, health and happiness.
Deadline July 1.
For Oct issue: Stories about going offline or off the grid.
. Deadline Aug 1
For Nov issue: Stories about foodie love, food memories, taste, girls' nights. Deadline Sept 1.
For Dec issue: Stories about happiness, joy, what brings you to happy tears or tears of laughter.
Full submission guidelines

here

.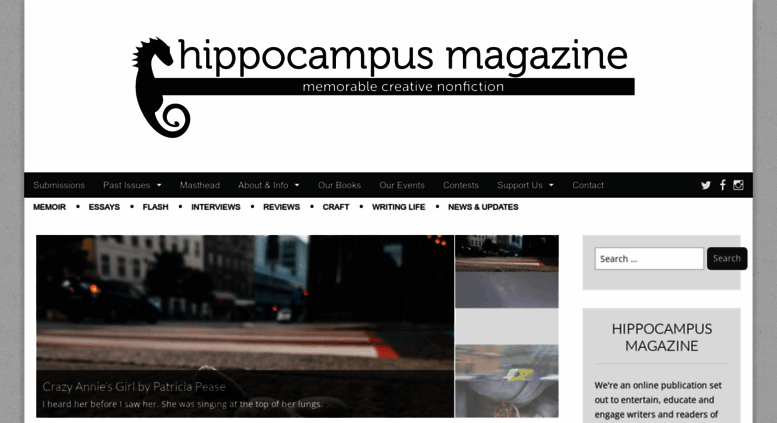 Hippocampus Magazine and Press
seeks true stories for its
Air
anthology. "We're looking for behind-the-scene stories about small town radio stations. We're seeking personal stories about die-hard radio fans. We want to hear from (current/former) jocks, from program directors, from engineers, from the sales team, from ancillary characters like record reps and concert promoters – tales from every corner of the radio station and from everyone radio ever reached." Maximum 6,500 words. Pays: $50 per piece.
Deadline
: February 15, 2017.
Full submission guidelines
here
.
See Brian Henry's schedule
here
,
including writing workshops and
creative writing courses in Algonquin Park, Bolton, Barrie, Brampton,
Burlington, Caledon, Georgetown, Guelph, Hamilton, Ingersoll, Kingston, Kitchener, London, Midland, Mississauga, Oakville, Ottawa, Peterborough, St. Catharines, Saint John, NB, Sudbury, Thessalon, Toronto, Windsor, Woodstock, Halton, Kitchener-Waterloo, Muskoka, Peel, Simcoe, York Region, the GTA, Ontario and beyond.
Navigating tip:
For more paying markets, go to the

Labels

for this posting listed immediately below and click on Paying Markets, or Best Paying Markets. You'll also find a links to various other collections of postings i
n the list of Labels.