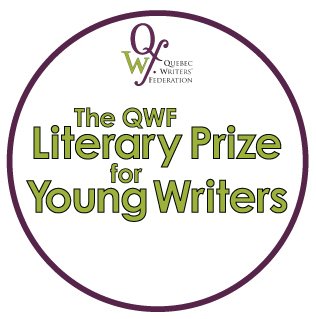 Note:
Don't ever miss a post on Quick Brown Fox. Fill in your email in the box to the right under my bio and get each post delivered to your Inbox. Also, if you're not yet on my newsletter, send me an email, including your locale, to:
brianhenry@sympatico.ca
~ Brian
Hi, Brian!
I'm writing to you today in the hope that you can help our social media campaign for the Quebec Writers' Federation Literary Prize for Young Writers gain more traction.
Young writers, the

#qwf #youthlitprize

for emerging writers is open for submissions.
The prize will be awarded for the best short story, poem, or work of non-fiction written in English and published in a literary publication in 2015 or 2016 by a writer
between 16 and 24 years old.
Submit yourself or pass this on to someone you know who may be.
Deadline June 15, 2017.
Full details

here

.
Alban Lake
publishing seeks novels, novellas, and collections; 100-word stories and submissions for horror anthology.
Anthology:

The Mad Visions of al-Hazred

. "
About 730 AD, an Arab named Abdul Al-Hazred wrote the Al-Azif, a grimoire and memorial to the Old Ones. For this crime, he was driven insane and eventually devoured by a vengeful god in full view of horrified onlookers. What drove him to write this loathsome tome? What terrible visions haunted him so badly he felt he had to risk his soul to put them down on paper?" Stories should be 3,000 – 10,000 words. Pays $25.
Deadline
: June 30, 2017. Full guidelines
here
.
Also seeks submissions for their current Drabble contests – stories precisely 100 words. Them: Adventures in Plumbing; deadline June 30, 2017; details

here

. Theme: Alien Bedtime Stories; deadline July 31, 2017; details

here

.
Finally Alban Lake publishes novels, novellas, and some collections of short stories and poetry. They're mainly looking for speculative science fiction, though they also publish fantasy and horror. For novels, pays 20% of print sales and 50% of ebook sales. For novellas and collections, pays $15 plus 10% of print sales and 50% of ebook sales
But read their submission guideline first

here

.
The Threepenny Review

:
"There are vanishingly few magazines left in this country which seem pitched at the general literary reader and which consistently publish such interesting, high-quality criticism, reflection, argument, fiction, and poetry… Threepenny is thankfully still out there."

~ Jonathan Franzen.
Threepenny Review
s
eeks reviews and critical articles, poetry, short memoir, and fiction. Critical articles should be about 1,200 to 2,500 words, Table Talk items 1,000 words or less, stories and memoirs 4,000 words or less, and poetry 100 lines or less.
Pays
$200/poem, $400/story.
Deadline
: June 30, 2017. Submission guidelines

here

.
Ross and Davis Mitchell Prize for Faith and Writing ~ $25,000 in prizes
George Elliott Clarke,
one of the poetry judges
In A Secular Age, Canadian philosopher Charles Taylor writes that many modern people have imagined the gods away and so live in a disenchanted world. Yet despite this, they continue to be haunted by moments of wonder (or fear) that tempt them towards belief. Could there be something more to the world than meets the eye?
Of course, many Canadians have an idea about what this something might be. And they live their lives within communities that have sought to understand it, share it, live according to it, and pass it on to their children and grandchildren. These are the thousands of Canadians of faith communities, Canadians who participate in the myriad of religions that make up the social landscape of Canada.
Yet it's sometimes easy to forget about all these individuals and communities of faith, and to imagine Canada as one increasingly "secular" - by which we often mean

irreligious - nation. The Ross and Davis Mitchell Prize for Faith and Writing is designed to help give voice to these individuals and communities and to help re-awaken Canadians to the powerful truth, goodness, and beauty that belief brings into our shared lives.
There will be $25,000 of Prize money awarded.
1st place for short story: $10,000
1st place for suite of poems: $10,000
2nd place for short story: $2,500
2nd place for suite of poems: $2,500
Randy Boyagoda, president PEN Canada
and one of the short story judges
Also: All the shortlisted nominees will have their work published in an anthology to be published in 2018.
There is a $10 submission fee.
Submissions for the poetry prize must come in the form of a suite of poems connected to the prize theme (see "Purpose of Prize") ranging between 300 and 500 lines. (NB: Poetry prizes are for the entire suite, NOT the best poem within the suite.)
Submissions for the short story prize must be connected to the prize theme (see "Purpose of Prize") and be within the 6,000-word limit.
Deadline: June 30, 2017.
Full contest details
here
.
See Brian Henry's schedule
here
,
including writing workshops and creative writing courses in Algonquin Park, Bolton, Barrie, Brampton, Burlington, Caledon, Georgetown, Guelph, Hamilton, Ingersoll, Kingston, Kitchener, London, Midland, Mississauga, Oakville, Ottawa, Peterborough, St. Catharines, Saint John, NB, Sudbury, Thessalon, Toronto, Windsor, Woodstock, Halton, Kitchener-Waterloo, Muskoka, Peel, Simcoe, York Region, the GTA, Ontario and beyond.

Navigating tip:
For more paying markets, go to the

Labels

for this posting listed below and click on Paying Markets, or Best Paying Markets. In the list of Labels, you'll also find a links to various other collections of postings.