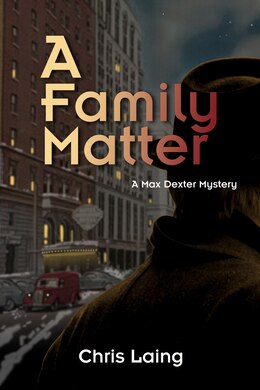 A Family Matter
is Chris Laing's third novel in this post-WWII mystery series featuring Max Dexter and Isabel O'Brien.
Max's mother returns to Hamilton after an absence of twenty-some years. Max is not anxious to meet with her – why should he be after she'd abandoned him as a child? But a bigger question looms: is she involved in an internal mob war now heating up and about to explode?
Everyone is invited to the book launch
Sunday, May 7, 2017
1060 King Street West, Hamilton
If you can't make the book launch,
A Family Matter
is
available
through Chapters / Indigo here. and the two other Max Dexter mysteries, A deadly Venture and A Private Man, plus Chris's short story collection, West End Kid: Tales from the Forties, are available here.
See Brian Henry's schedule
here
,
including writing workshops and creative writing courses in Algonquin Park, Bolton, Barrie, Brampton, Burlington, Caledon, Georgetown, Guelph, Hamilton, Ingersoll, Kingston, Kitchener, London, Midland, Mississauga, Oakville, Ottawa, Peterborough, St. Catharines, Saint John, NB, Sudbury, Thessalon, Toronto, Windsor, Woodstock, Halton, Kitchener-Waterloo, Muskoka, Peel, Simcoe, York Region, the GTA, Ontario and beyond.