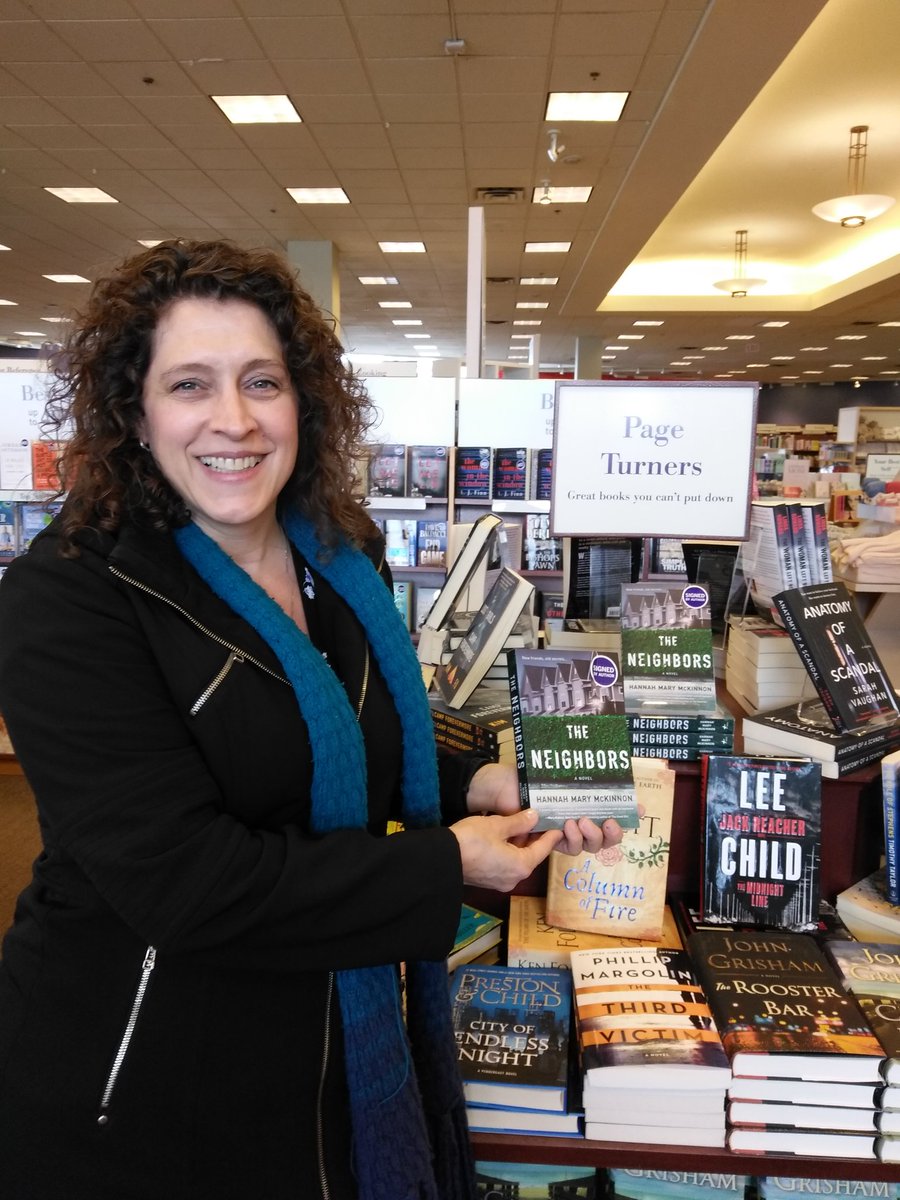 Hannah with her page-turner,
The Neighbors at Chapters in Mississauga
An evening with authors

Hannah Mary McKinnon

&

Karma Brown
Wednesday, May 23, 2018
7:00 – 8:30 p.m.
Oakville Central Library, Auditorium, 120 Navy Street, Oakville, Ontario (Parking round the back, off Water St. Map here.)


Hannah Mary McKinnon
(who many Quick Brown Fox readers will know from Brian Henry's courses and workshops) is the author of
The Neighbors,
a dark, suspenseful woman's fiction novel published in March 2018 by MIRA (HarperCollins USA) and
Time After Time,
published
in June 2016 by AVON (HarperCollins UK), a novel about love, loss and second chances that's full of humour. Hannah's third book,
Her Secret Son
,
was also acquired by MIRA and launches next spring.
When she's not writing novels for adults, Hannah's three boys give her plenty of material for children's books.
Also, Hannah will be the guest speaker at the How to Build Your Story workshop, Saturday, Oct 20, in Waterloo. See

here

.
And visit Hannah's website
here
.
Karma Brown
Karma Brown
is an award-winning journalist and author of several bestselling novels. In addition to her novels, Karma's writing has appeared in several magazines.
Her most recent novel is

The Life Lucy Knew.
After hitting her head, Lucy Sparks awakens in the hospital to a shocking revelation: the man she's known and loved for years – the man she recently married – is not actually her husband. In fact, they haven't even spoken since their breakup four years earlier. When the life Lucy believes she had slams against the reality she's been living for the past four years, she must make a difficult choice about which life she wants to lead, and who she really is.
Join us just three weeks before the publication date to get a preview of this intriguing story of dark secrets and the pull of the past.
Visit Karma's website here.
Fee: $15. Tickets available at Oakville Library branches starting April 25.
Oakville Central Library, Auditorium, 120 Navy Street,
Oakville
, Ontario (Map

here
.
Parking on Water Street, behind the library)
If you want to refine your story-telling skills
and cut the time you will need to spend editing, this workshop is for you. You'll learn how to step back from a manuscript in order to find – and fix – flaws in your plot, structure, characterization and style. You'll learn how to rethink, rework and rewrite so that your manuscript will live up to your vision.
Special Option:
You're invited to bring the first 500 – 1,000 words of one of your pieces of writing. You don't need to bring anything, but if you do, three copies could be helpful.
Workshop leader
Brian Henry
has been a book editor and creative writing instructor for more than 25 years. He publishes Quick Brown Fox, Canada's most popular blog for writers, teaches creative writing at Ryerson University and has led workshops everywhere from Boston to Buffalo and from Sarnia to Saint John. But his proudest boast is that he
has helped many of his students get published.
You can read reviews of Brian's courses and workshops
here
.
See Brian's complete current schedule
here
,
including writing workshops, weekly writing classes, and weekend retreats in Algonquin Park, Bolton, Barrie, Brampton, Burlington, Caledon, Collingwood, Cambridge, Georgetown, Guelph, Hamilton, Kingston, Kitchener-Waterloo, London, Midland, Mississauga, Oakville, Ottawa, Peterborough, St. Catharines, Saint John, NB, Sudbury, Toronto, Windsor, Woodstock, Halton, Muskoka, Peel, Simcoe, York Region, the GTA, Ontario and beyond.