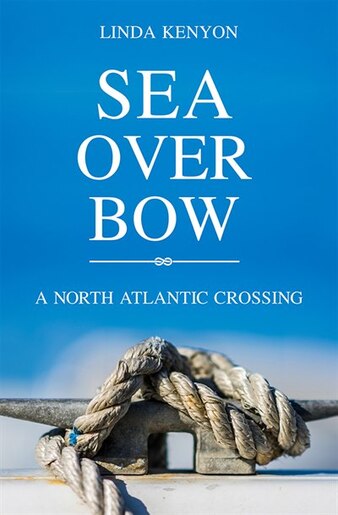 I'd like to subscribe to your blog. My sister Sandy Kenyon attended one of your workshops and I can't get her to stop raving about it.
I live on a sailboat so I'm everywhere, but my address of convenience is Guelph, Ontario.
I wrote a book about my travels, Sea Over Bow: A North Atlantic Crossing, and it was published by Signature Editions on October 31. It's really very good. You should read it.
:-)
Looking forward to following your blog. It takes a lot to impress Sandy.
Linda Kenyon
Somewhere off Grand Bahama
Sea Over Bow: A North Atlantic Crossing
by Linda Kenyon
Linda Kenyon
Prepare to be swept away!
There are few truly wild places left in the world. The middle of the North Atlantic is one of them. It's not a place I ever expected to find myself.
Just a few years before I crossed the ocean in a 43-foot sailboat, my marriage of 25 years had ended badly. I bought myself a tiny condo in an old schoolhouse in Waterloo, found a comfortable armchair at a second-hand store, and settled in with my books. Never again, I told myself. I would never put myself in the way of another broken heart.
Then I met Chris and somehow, let him talk me into going out sailing with him in Georgian Bay. Before I knew it, I had decided to quit my job, sell everything I owned, and move onto the boat with him. We sailed around in the Great Lakes while I learned the ropes—literally. Two years later we were getting ready to set out on our first ocean crossing, from Antigua to the Azores, a passage of roughly 2,300 miles.
Sea Over Bow: A North Atlantic Crossing
tells the story of that journey. The middle of the ocean is a place to test yourself, certainly, but it's also a place to think, and dream, and try make sense of your life. I'm not the same person I was when I set out.
"More than a taut, well-told, and at times harrowing tale of a 26-day ocean passage, this is also a captivating story of family, self, and love lost and found. Kenyon swept me along from first page to last." — Ann Vanderhoof, author of

An Embarrassment of Mangoes
"

Sea Over Bow

is a charming and insightful look at the storms we have all survived, whether on the ocean or not, exploring the possibilities of how we might have both safety and freedom at the same time." —Diane Schoemperlen, author of

This Is Not My Life: A Memoir of Love, Prison, and Other Complications
"From basking in warm Caribbean breezes and cruising the exotic Mediterranean to weathering tense storms at sea, Linda Kenyon has captured both the excitement and trepidation of embarking on a big voyage and the dangers of crossing an unforgiving ocean in a small boat. Seamlessly woven into this epic sailing journey is the moving story of the author's past trials and life journey. — Paul & Sheryl Shard, creators of the sailing adventure TV series

Distant Shores
"Linda Kenyon's

Sea Over Bow

is a gorgeous, lyrical and funny account of blue water sailing." –Kevin Patterson, author of

The Water in Between: A Journey at Sea
For information about submitting to Signature Editions, see

here

.
See Brian Henry's schedule
here
,
including writing workshops and creative writing courses in Algonquin Park, Bolton, Barrie, Brampton, Burlington, Caledon, Georgetown, Guelph, Hamilton, Ingersoll, Kingston, Kitchener, London, Midland, Mississauga, Oakville, Ottawa, Peterborough, St. Catharines, Saint John, NB, Sudbury, Thessalon, Toronto, Windsor, Woodstock, Halton, Kitchener-Waterloo, Muskoka, Peel, Simcoe, York Region, the GTA, Ontario and beyond.