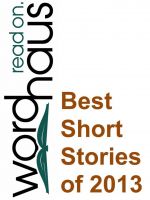 Thought I would share some good news with you. I submitted three short stories to Wordhaus and the first one that I submitted, "The Watcher" went online April 2!
Unfortunately, I wasn't able to make your "How to Get Published" workshop on March 23 in Thessalon after all. Our band scored a last-minute gig in the opposite direction and I must go where the money is.
On another note, I had a book signing for my Chicken Soup and the Elliot Lake Standard ran a nice article about it (

here

).
Hope you enjoyed your trip to the north.
Read about submitting to Chicken Soup

here

. If you missed me in Thessalon, I'm leading the "How to Get Published" workshop in Markham on May 24 with literary agent Carly Watters as my guest speaker (see

here

) and on June 22 in Ottawa with literary agent Maria Vicente as my guest speaker (see

here

).
I wanted to let you know that CommuterLit posted my story "Windsor Knot" today, and they will be posting a second story, "Last Dance" in the near future. Both of these stories started in your class, which I greatly enjoyed. Thank you for encouraging me to submit to them, I am very pleased!
You can read Darren's bio and find links to both his stories

here

. For information about submitting to CommuterLit, see

here

, and to read about their new contest, see

here

.
A friend introduced me to your website ­– a fabulous resource. If it wasn't for your blog, I wouldn't have known about the Ten Stories High contest, where I placed third. The launch of the anthology was held this past weekend and it's a wonderful experience to see my short story published!
See Brian Henry's schedule
here
,
including writing workshops and creative writing courses in Barrie, Brampton, Bolton, Burlington, Caledon, Cambridge, Georgetown, Guelph, Hamilton, Kingston, London, Midland, Mississauga, Newmarket, Orillia, Oakville, Ottawa, Peterborough, St. Catharines, Stouffville, Sudbury, Toronto, Halton, Kitchener-Waterloo, Muskoka, Peel, Simcoe, York, the GTA, Ontario and beyond.