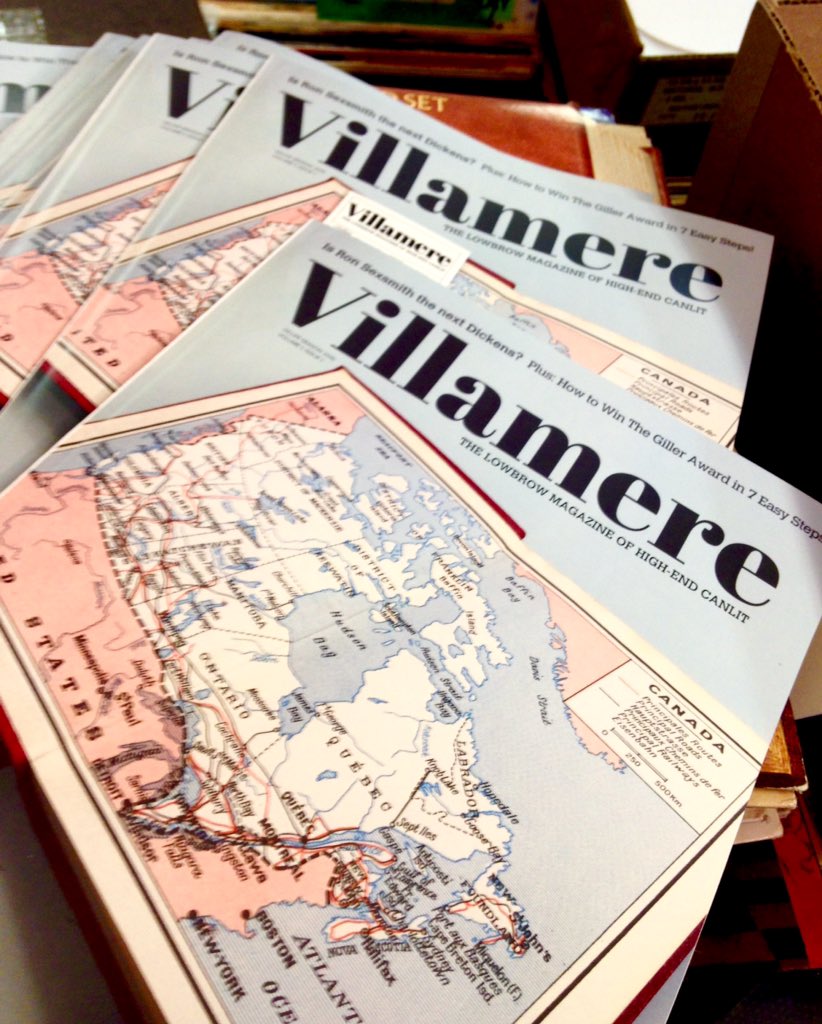 Villamere
,
the lowbrow magazine of high end CanLit, is a new literary journal. It's looking for short fiction, creative nonfiction, essays, and poetry. And they'll pay you $25 for your contribution. You can also submit your photography or illustrations or pitch them on
a review of a book, literary festival, book-related event or some other such Canadian wordsy thing.
Villamere is also looking at ways to offer you non-financial compensation, "because your work is good and important and you deserve nice things. You will see that we have designed and run very handsome pro-bono ads for some of our contributors. This is one way we offer non-financial compensation. We are flexible and eager to work with you to help you any way we can."
Deadline: On-going.
Full submission guidelines
here
.
Hi, Brian.
I was hoping you could add the 

Mystery Weekly 
Magazine

 

to your Mystery and

 

Crime Fiction Markets?
We're publishing our 5th monthly issue on January 1st. 
We buy 6 stories

 

each month and pay 5 cents per word 
with a maximum of 10,000 words ($50),

 

payable upon 
acceptance.
We are a Canadian magazine published in Ancaster, 
Ontario.
Deadline is on-going. Full submission information 

here

. 
Thanks!
Chuck Carter


Mystery Weekly Magazine
The Literary Hatchet
(Massachusetts) publishes contemporary short fiction, poetry, humor, interviews and reviews by established and emerging writers and artists from around the world. Subjects range from mystery, murder, macabre, horror, monsters, ghosts, and things that go bump in the night. Now published 3 times a year!
"We accept submissions and pay all authors and artists for their work."
Deadlines: Ongoing. Submission guidelines

here

.
Biannual magazine
Compose: A Journal of Simply Good Writing
seeks submissions for their Spring 2016 issue. Accepts fiction, poetry, creative nonfiction, artwork, and feature articles and interviews about the craft of writing.
Deadline: January 31, 2016.
Guidelines
here

.
Lost Documents
,
a new literary journal from Dartmouth, Nova Scotia, seeks prose submissions for their second issue.
Note:
Don't ever miss a post on Quick Brown Fox. Fill in your email in the box to the right under my bio, and get each post delivered to your Inbox, and if you're not yet on my newsletter list, email me, including your location, at:
brianhenry@sympatico.ca
~ Brian
See my schedule

here

, including writing workshops and creative writing courses in Algonquin Park,

Barrie, Bracebridge, Brampton, Burlington, Caledon, Collingwood, Georgetown, Guelph, Hamilton, Ingersoll, Kingston, Kitchener, London, Midland, Mississauga, Newmarket, Orillia, Oakville, Ottawa, Peterborough, St. Catharines, Saint John, NB, Sudbury, Thessalon, Toronto, Windsor, Halton, Kitchener-Waterloo, Muskoka, Peel, Simcoe, York, the GTA, Ontario and beyond.