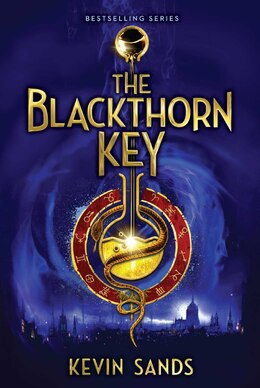 Aladdin (Simon & Schuster), N.Y. 2015; available in paperback ($10.95), hardcover ($11.53) of Kobo ebook ($3.99)
here
.
Of all the boys from Cripplegate,
Benedict Blackthorn chose Christopher Rowe to be his apprentice. It's London, 1665 and in those times to be an apothecary's apprentice is an honour; a position never imagined by a mere orphan boy.
Blackthorn must have seen in Christopher some potential, ability or temperament that inspired him to teach his young apprentice history, science, Latin, chemistry, medicine and how to write and decode secret messages. Perhaps he knew Christopher would one day need all that and more.
This exciting page-turner set over a six-day period is Kevin's Sands' debut novel. With older middle grade readers as his audience, Sands roars through his tale y with such excitement, it will be hard for anyone to put down.
A mysterious cult preys on London's apothecaries. Several are found murdered in a most cruel fashion. Christopher tries to solve the most elusive conundrum: what is the Cult of the Archangel and why are they targeting prominent apothecaries? He fears for his master's safety.
With no shortage of riddles, Christopher and his best friend, Tom, search the dirty streets of London to find the truth behind "The Blackthorn Key". Christopher knows the ancient symbols and glyphs must yield its secrets if he is ever going to solve the mysteries, and prove himself worthy.
Having just barely learned to trust Tom, Christopher struggles to find others to trust and help him in his quest: The Guild Council, Dr. Parrett, Oswyn, Wat, or Lord Ashcombe, himself. At one point he has to confront another problem—how can he remain friends with Tom if in so doing, he puts Tom and his family in danger.
For every solution there looms another problem.
But the brain loves a challenge, a good mystery. Follow Christopher as he puzzles things out, staying just ahead of those who want to smother him and what he's discovered—once and for all! But don't worry (spoiler), he doesn't die. I'm just reading the sequel, The Mark of the Plague, and this time, he and Tom have gotten themselves involved in a deeper, more sinister and, yes, more deadly world.
The first time I read this story, I just enjoyed it. The second time, I learned more about what it takes to write well. The dynamic style of Kevin Sands helped me to see how to make first person narrative work well for middle grade readers. I'll try out my new style in one of Brian Henry's writing classes. Look forward to the feedback!
Quick Brown Fox
welcomes your reviews of books and movies or whatever else catches your eye. Details
here
. Read how to write a book review (or any kind of review)
here
.
Sally Wylie
has published textbooks in early childhood, but after Brian's writing classes, she's happy to finally be writing fiction for young children and YA.
See Brian Henry's schedule
here
,
including writing workshops and creative writing courses in Algonquin Park, Bolton, Barrie, Brampton, Burlington, Caledon, Georgetown, Guelph, Hamilton, Ingersoll, Kingston, Kitchener, London, Midland, Mississauga, Oakville, Ottawa, Peterborough, St. Catharines, St. John, NB, Sudbury, Thessalon, Toronto, Windsor, Woodstock, Halton, Kitchener-Waterloo, Muskoka, Peel, Simcoe, York Region, the GTA, Ontario and beyond.