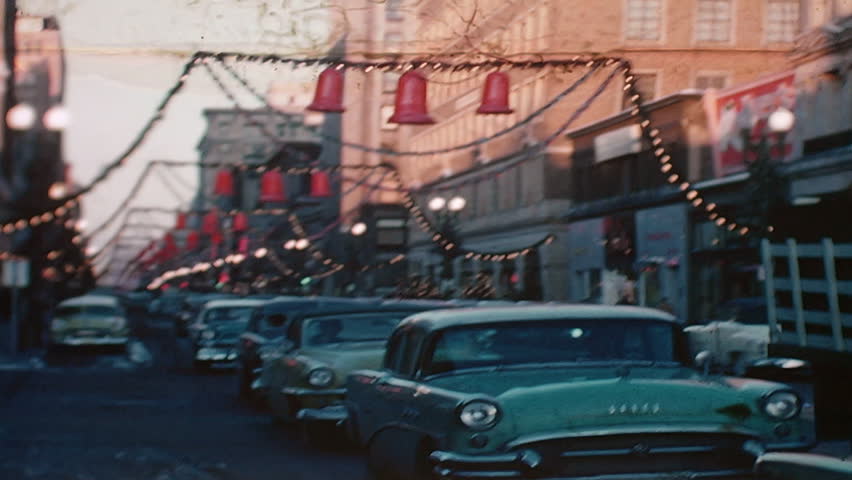 Mimico, Ontario,
5 a.m. Sunday, December 25, 1955
When I was seven years old, Christmas mornings in Mimico always seemed like they were among the
coldest days of the year. In our city-sized backyard the icy glaze-topped snow reached to our thighs; temperatures were always "minus something."
Inside the house, in the hastily converted back porch that my older brother Alan and I now called our bedroom, it was a little warmer but the insulation sciences of the 1950s hadn't yet developed enough to keep us anywhere near toasty. Meanwhile below us, in the dirt-floored basement, the coal-fuelled furnace chugged away, fighting to deliver enough heat to make our family comfortable on this magical morning.
My brother and I lay silent but wide awake in our matching twin beds set side-by-side, barracks-style along the thin wood paneled wall painted powder blue in the fashionable colour of the day.
It was Christmas, the most wonderful day on the calendar! Santa's day! Presents day! The day that kids around the world spent the other 364 days of the year dreaming about! And who could blame us? Mr. Eaton's and Mr. Simpson's colourful catalogues, as thick as the New York City phone book, stoked a level of greed in us that would make even the most ardent capitalist envious.
Specially produced kids' television programs which emanated from stations WBEN and WGR in Buffalo, took black and white electronic marketing to an art form and inspired in us an overwhelming desire to own every Slinky, every Lone Ranger Pistol and Holster Set, every Meccano building kit yet created.
"Alan, is it time to get up yet?" I whispered.
"No. Go back to sleep," he responded with no conviction.
I checked the Westclox wind up alarm clock on the night table between our beds. It warned me that it was just 5:17, far too early to wake Mom and Dad.
Ah! But wait. There were the Christmas stockings we had hung the night before at the foot of our beds. Something to satisfy our Christmas morning curiosity, like an appetizer before the main course. Would they contain treasures or trinkets? We used our Eveready flashlights to find out, but please, please God, no oranges or socks or crummy bow ties! Not again this year!
We leaned forward, plucked our stockings from their perch on the foot boards and dove in.
My heart was crushed! Two walnuts? I dug deeper. New underwear? I kept going. I pulled out an apple, then the inevitable socks. I sat up in bed as a combination of disappointment and anger invaded my excitement like a black smog. A tear slipped from the corner of my eye.
My brother remained silent and I sensed that at that moment we were sharing one of those bonding sibling events … mutual disappointment. Were these meager stockings intended to warn us that we couldn't expect to find much better under the tree?
I was well aware that we were not a rich family, though not poor either. We were, like most other families on Eastbourne Crescent, very blue collar. Something to be proud of but not something a seven-year-old boy could build his Christmas dreams on. We could only place our faith in Santa to fulfill the inflated, unrealistic expectations we had conjured in our youthful brains.
"Listen!' Alan said. "I think I hear the kitchen radio. It's playing 'White Christmas.' It must be okay to get up."
We sprang to our beds as if shot from twin cannons. We headed straight for the Christmas tree in the living room. There it was in all its glory. Green, red, blue, yellow lights sparkled like stars illuminating the bright metallic balls, all covered in glistening silver tinsel. The ivory angel on the tree's highest spire beckoned us forward, giving us her permission to come closer. Gifts wrapped in plain tissue, some red, some green were scattered in a five-foot radius at the tree's base.
We stood like athletes waiting for the starter's pistol, watching for Mom's barely perceptible nod of her head, our signal to let our pent-up curiosity explode in a flurry of riotous ripping and tearing. In the darkness of a cold, cold winter Christmas, 1955 was starting to look a whole lot better than our stockings had portended.
I can't recall what gifts I received; they don't seem important now in the least. It's the memories of that boyhood joy that matter beyond measure and I draw on them now each and every December to lighten my steps and my heart. Mom and Dad are gone now of course, but their spirits still visit us faithfully each December 25 as I watch my own children and grandchildren delight in the special joy that only Christmas can bring.
Gary MacLeod
is a Sales and Marketing Executive who, now in retirement, is eager to make good on a personal promise to himself: to learn something new every day. Brian's Creative Writing Course helps him fulfill that commitment perfectly by making it fun to develop his interest in communicating more effectively. Gary enjoys spending his time reading biographies, following Canadian political and social change, and exploring the countryside with his wife Linda in their sports roadster.
See Brian Henry's schedule
here
,
including writing workshops and creative writing courses in Algonquin Park, Bolton, Barrie, Brampton, Burlington, Caledon, Georgetown, Guelph, Hamilton, Ingersoll, Kingston, Kitchener, London, Midland, Mississauga, Oakville, Ottawa, Peterborough, St. Catharines, Saint John, NB, Sudbury, Thessalon, Toronto, Windsor, Woodstock, Halton, Kitchener-Waterloo, Muskoka, Peel, Simcoe, York Region, the GTA, Ontario and beyond.