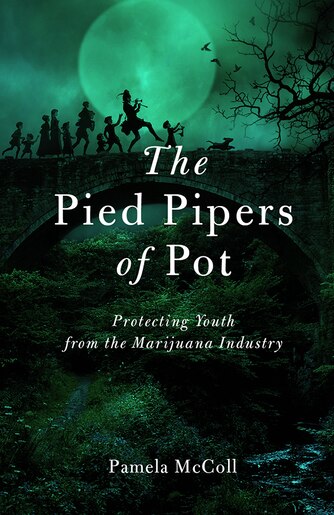 Just wanted to let you know about my new book.
The Pied Pipers of Pot – Protecting Youth from The Marijuana Industry
by Pamela McColl
The historical record and the worldwide fluctuation in marijuana use rates by minors clearly establishes that kids do not just fall into drug use as an inevitable rite of passage. Kids are sold on drug use.
The Pied Pipers of Pot, Protecting Youth from the Marijuana Industry
by Pamela McColl, reveals how marijuana products have been pushed on the youth sector in recent years through a process of normalization and acceptance. Kids are no match for the aggressive and emerging marijuana industry. The key to effective drug prevention, McColl argues, is to curtail those who stand to make money or get votes by advancing the pro-pot position.
If Canadians knew the true state of affairs and what legitimate science now substantiates in terms of marijuana harms, Canadians would not buy these products and would be moved to great efforts to ensure that our children reject this drug outright. The Pied Pipers of Pot is a call to action.
The Pied Pipers of Pot
is
available online from Chapters/Indigo

here

and is widely available through other
major on-line book retailers, as well.
Hey, do you have a book you want to promote?
I'm always glad to help by posting an announcement on Quick Brown Fox (though sometimes it may take a while). Just send me an email that I can post to:
brianhenry@sympatico.ca
See Brian Henry's schedule
here
,
including writing workshops, weekly writing classes, and weekend retreats in Algonquin Park, Bolton, Barrie, Brampton, Burlington, Caledon, Collingwood, Cambridge, Georgetown, Guelph, Hamilton, Kingston, Kitchener-Waterloo, London, Midland, Mississauga, Oakville, Ottawa, Peterborough, St. Catharines, Saint John, NB, Sudbury, Toronto, Windsor, Woodstock, Halton, Muskoka, Peel, Simcoe, York Region, the GTA, Ontario and beyond.