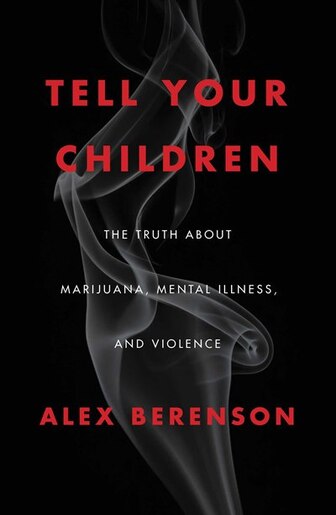 Simon and Schuster, Jan 2019, $31.96 hardcover / $17.99 Kobo ebook from Chapters
here
. For discounted bulk orders for book clubs, fundraisers, etc, contact spotkits@gmail.com
Tell Your Children
does an excellent job of examining the link between using marijuana and mental illness and psychosis-induced violence. This book by former New York Times reporter Alex Berenson, reveals the sad reality that, for some users, pot causes paranoia and triggers underlying psychosis. This can lead to all manner of bad outcomes, including violence against oneself or against others.
You can say that "correlation does not prove causation," but the correlations that Berenson's book exposes are too extensive to ignore. It makes a compelling case that more research is required.


This author researched and interviewed pro-legalization activists, researchers, mental health professionals, and family members of users of marijuana. He includes opposing arguments.
Many people are concerned about other aspects of marijuana use – problems that may affect more people – such as addiction, academic failure,

poor social or economic outcomes, and driving accidents. Berenson pays little attention to these issues because he has concluded that the mental illness issue is the most harmful effect.
Berenson not only unearthed important epidemiological work, but in conjunction with a colleague in academia, initiated some ground-breaking analyses of his own using hospital records. The result was a direct hit on a weakness in American health care that marijuana proponents take advantage of – the lack of tracking of psychosis incidence.
Alex Berenson
The Centers for Disease Control and Prevention collects data on all manner of reportable diseases, but a psychotic disorder like schizophrenia is not one of them. Thus, when marijuana proponents point to a lack of discernible change in psychosis rates with changing marijuana use rates in this country, they slyly skirt the fact that no one is counting psychosis incidents.

What Berenson and his colleague identified in a database on hospital emergency department visits and hospital admissions was a remarkable increase in patients entering for psychosis in conjunction with a marijuana use disorder from 2006 to 2014, a time when marijuana use was also increasing markedly.
Lacking access to the individual patient records, rigorous epidemiology could not be conducted, but this preliminary view of the hospital trends conveys a bleak picture that has gone unreported until now, in this book.

The core value of Berenson's accomplishment is to make key scientific knowledge available to the public.
He approaches the subject as an investigative reporter. The book is short and well-written in a style that is easy for the general public to read. At one time, Berenson was also skeptical that marijuana had serious mental health effects, but today the evidence is overwhelming.


The last few chapters are about specific cases that you may have heard about in the news. In these cases of horrible psychosis, police shootings and domestic violence, family members are interviewed. In each case there's a compelling argument that marijuana is a major factor in descent into criminality related to psychosis.
This book may help the families who don't understand a relative's mental illness or suicide, because they may not have figured out the pot connection.
Jesse LeBlanc
is a retired mechanical engineer.
Note:
Quick Brown Fox welcomes your book reviews – or any kind of review of anything, of anywhere or of anybody. If you want to review your favourite coffee shops or libraries, babysitters or lovers (no real names please), go for it. See examples of book reviews

here

(and scroll down); other reviews

here

(and scroll down).
QBF also welcomes essays about a favourite book or about your experience of reading or writing, and other essays, too. Read a few essays on the blog to get a taste of what other writers have done (see

here

and scroll down).
Include a short bio at the end of your piece and attach a photo of yourself if you have one that's okay.
See Brian Henry's schedule
here
,
including Saturday writing workshops, weekly writing classes, and weekend retreats in Algonquin Park, Alliston, Bolton, Barrie, Brampton, Burlington, Caledon, Collingwood, Georgetown, Georgina, Guelph, Hamilton, Jackson's Point, Kitchener-Waterloo, London, Midland, Mississauga, New Tecumseth, Oakville, Ottawa, Peterborough, St. Catharines, Sudbury, Toronto, Windsor, Woodstock, Halton, Muskoka, Peel, Simcoe, York Region, the GTA, Ontario and beyond.