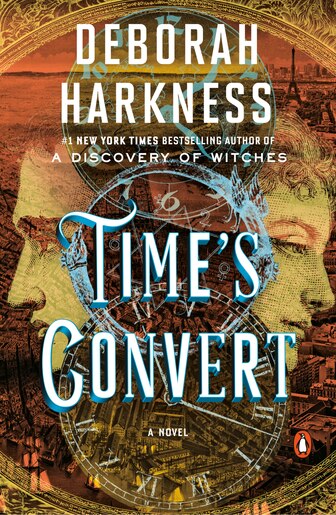 Times Convert by Deborah Harkness
represented by Frances Goldin Agency
Frances Goldin Literary Agency
214 West 29th Street
Suite 1006
New York, NY 10001
Note: Don't ever miss a post on Quick Brown Fox. Fill in your email in the Follow Brian by Email box to the right under my bio, and get each post delivered to your Inbox. If you're not yet on my newsletter list, send me an email, including your locale to: brianhenry@sympatico.ca ~Brian
Frances Goldin agency has eight agents, all accepting queries, including two associate agents, Jade Wong-Baxter and Sulamita Garbuz, who just joined the agency in 2021. Like all new agents, they need authors:
Jade Wong-Baxter previously worked for three years at Massie & McQuilkin Literary as a junior agent and foreign rights associate. A graduate of Vassar College, Jade got her start in publishing at Writers House, W.W. Norton, and Folio Literary.
Jade is looking for adult literary/upmarket fiction and narrative nonfiction. Like everyone else, she's particularly interested in narratives by and about people of colour and the perspectives of marginalized identities. Her other areas of interest include magical realism, memoir, cultural criticism, and Asian-American history.
Query Jade at: jwb@goldinlit.com
Sulamita Garbuz worked at Trident Media for four years before joining Frances Goldin agency. A graduate of Swathmore College, she worked in the white collar crimes division of the US Attorney's Office and for several labour unions before entering publishing.
Sulamita gravitates primarily toward nonfiction, with an emphasis on books with a social justice bent. Her areas of specializaty include narrative nonfiction, memoir, psychology, science, and journalism.
She is also looking for character-driven literary fiction and is especially excited by novels that use speculative or dreamlike elements to explore current social dynamics, stories of obsession and women misbehaving, and narratives about immigration and 2nd generation experience.
Query Sulamita at: sg@goldinli.com
If you're interested in meeting an agent and in getting published, don't miss our online How to Get Published Saturday, Aug 14, with literary agent Gordon Warnock of Fuse Literary (see here).
If you're especially interested in writing for children, don't miss Writing Little Kid Lit course, offered online Thursday afternoons, July 8 – Aug 26 (see here) and Writing for Children and for Young Adults workshops online Sunday, July 11, with literary agent Maria Vicente of P.S. Literary (see here).
Beyond that, Brian Henry's schedule continues to take shape...
Online: Beginning Right – How to open your novel, Saturday, May 15. Details here.
Online: Finding Your Voice, Sunday, May 30. Details here.
Online: Writing Conflict, Saturday, June 26. Details here.
Writing retreat:
Algonquin Park: Writing Retreat at Arowhon Pines Resort, an island of luxury in the middle of a wilderness. Friday, June 11 – Monday, June 14. Details here.
Summer classes:
In-person: Exploring Creative Writing, Wednesday afternoons, July 7 – Aug 25, in Burlington. Details here.
Literary agent Maria Vicente

Online: Writing Little Kid Lit Thursday afternoons, July 8 – Aug 26. Details here.
In-person: Intensive Creative Writing, Wednesday afternoons, July 7 – Aug 25, in Burlington. Details here.
Details of all summer classes here.
For more details or to register for any workshop, retreat or weekly class, email brianhenry@sympatico.ca
See Brian's complete current schedule here, including online and in-person writing workshops, weekly writing classes, and weekend retreats in Algonquin Park, Alliston, Bolton, Barrie, Brampton, Burlington, Caledon, Collingwood, Georgetown, Georgina, Guelph, Hamilton, Jackson's Point, Kingston, Kitchener-Waterloo, London, Midland, Mississauga, Oakville, Ottawa, Peterborough, St. Catharines, Southampton, Sudbury, Toronto, Windsor, Woodstock, Halton, Muskoka, Peel, Simcoe, York Region, the GTA, Ontario and beyond.
Navigation tips: Always check out the Labels underneath a post; they'll lead you to various distinct collections of postings. If you're searching for interviews with literary agents or a literary agent who represents a particular type of book, check out this post.