It was a Saturday afternoon. I was sitting with my friend Afia, in a local restaurant, chatting and laughing. Brian Adam's "Summer of 69" playing in the background made the entire café come to life. This was a rare treat for us, as Afia was a doctor always busy with patients and off duty calls and I was always working to a journalist's schedule.
Another issue for us was that our husbands were lazy creatures. After work their favourite pass time was to watch sports TV and do nothing, so the entire load of domestic and social responsibilities also fell onto our laps.
But always, it was a pleasure to see each other.
She was filling me in on her son's latest girlfriend when her cell phone rang. She held up a finger and took the call, still smiling, but only for a moment. Her expression collapsed, her face became white, and tears filled her eyes. She nodded briefly and switched off her cell. She looked towards me while a single tear roll down her cheek and said that Tania had been shot. By her husband.
"What?" I nearly screamed and put the tea cup with my shaking hand on the table.
Tania was the biological mother of my adopted daughter Sana who was then a chatty five-year-old.
"Why. What was the reason?" I asked Afia.
"You know as well as I," she said. "He must have found out. But I'll get you the details as soon as I know".
I quickly left the restaurant because I wanted to be with Sana.
I remember it being a beautiful spring morning when I'd received a call from my friend Afia. She had arranged a meeting between Tania, Sana's mother, who wanted to abort her unborn baby, and myself. Tania was 24 weeks into the pregnancy and doctors were refusing to abort, as there was a risk involved. Afia knew of my intention to adopt a child, so she'd asked me to come in.
Next day when I arrived at Afia's clinic to meet Tania, I was struck by her beauty and decency. She was a gorgeous young girl of about eighteen who was sitting with her very charming and elegant mother. She wrapped herself in a traditional shawl. They were Afghans but based in Peshawar. My first impression was that they belong to an educated and affluent class.
"She was engaged to her cousin," her mother told me, while Tania looked at her lap.
"They were to get married last month but he died in an accident six weeks before the wedding," she told me without controlling her tears. "We are tribal people. Her brothers can't know about her pregnancy – they'll kill her in the name of honour, and I don't want my son behind bars and my daughter in a grave in my back garden. We are people who respect values.… I don't know how she got into this mess".
I looked at Tania for an elaboration of the word "mess" but none was forthcoming. For Tania it was perhaps love, I thought, but she did not utter a word, and her only expression were the tears which rolled down her pink cheeks. I wondered whether she was crying because of the death of her fiancé or for giving away the only living token of their love.
As we signed the documents for adoption in front of Afia, who was handling this on the hospital's behalf, Tania looked at me and spoke for the first time. "Will I ever be able to see her?" she asked.
Before I could answer, Afia interrupted in a stern voice: "No."
Tania tried to control herself, but she couldn't. Her hands shook as she signed the papers and put the pen back on the table. Then she put her head on her mother's shoulder and cried like a baby.
I knew that the heaven and earth felt her pain.
After few months when I was called to pick Sana from the hospital, I'd met Tania and her mother again and this time Tania looked even more disturbed than before. Although she was wearing a beautiful pink and blue dress, her shoulder length hair were neatly tied I could sense her distress as she put her baby in my lap.
Usually it is not the mother who handed over the baby; it is the hospital staff, but Tania had insisted she wanted to do the task herself. "Please call her Sana," she said, her voice hoarse. "It's her father's name."
I agreed, and as she left the room she'd turned back and glanced at Sana for the last time.
Although that happened five years ago it only seems yesterday. In the meanwhile, I'd heard that Tania had finally gotten married. Of course I assumed she hadn't told her new husband about her child. How could she, in a society where an unmarried pregnancy is a death sentence? But despite her secrecy, despite her complete separation from her child, her "crime" had somehow been discovered, and the sentence carried out.
As soon as I got home, I pulled Sana into a hug. She saw tears in my eyes and asked, "Mama, Mama, why are you crying? Is somebody dead?"
"Yes," I said, "My friend died"
"How did she die?" Sana asked.
I had to ignore her question, how could I explain?
"Don't cry, Mummy. She is in a good place. Didn't you say dead people go to heaven?"
"Yes," I said loudly. "She is in a much better place." I hugged Sana again and wondered, Will I ever have the strength to explain her mother's death?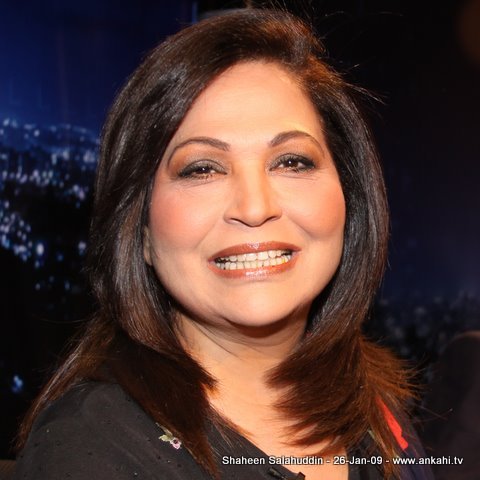 Shaheen Salahuddin
has been
a Senior Anchor/Journalist for the last 20 years. She headed the first private news channel in Pakistan and has over three thousand TV talk shows to her credit. Originally from Karachi, Pakistan, she now lives in Toronto, Canada.
See Brian Henry's schedule
here
,
including writing workshops and creative writing courses in Algonquin Park, Bolton, Barrie, Brampton, Burlington, Caledon, Georgetown, Guelph, Hamilton, Kingston, Kitchener, London, Midland, Mississauga, Newmarket, Oakville, Ottawa, Peterborough, St. Catharines, St. John, NB, Sudbury, Thessalon, Toronto, Windsor, Woodstock, Halton, Kitchener-Waterloo, Muskoka, Peel, Simcoe, York Region, the GTA, Ontario and beyond.