Whitaker House (2017) 200 pages. Available in paperback for $20.60 and Kindle for $9.99 from Amazon.ca here.
For years I've kept a journal,
more like a long-running conversation with God – telling Him everything that is on my heart, what I love about Him, what I dislike about Him, especially in reference to the people and situations he has allowed in my life.
Much of the time, my journal reads like a rapid-fire Q and A with the Big Guy.
When I read
Drop the Stones: When Love reaches the Unlovable,

I felt as if the author, Carlos A. Rodriguez, a feisty Puerto Rican pastor, had been reading over my shoulder. Through the pages, he was revealing the condition of my heart, in a gentle, yet no-nonsense manner.
The book centres around one simple, yet pivotal piece of biblical history: the woman caught in the act of adultery. In case you've not read your New Testament recently, here's a quick re-cap of the story:
In an attempt to trip up the carpenter's son into either denying or affirming Mosaic law, the religious leaders of the day decide to test him and in doing so, also rid the city of a scarlet woman.

They pointedly asked him if the laws of Moses doesn't demand that a woman caught in adultery be stoned to death.
The carpenter's son shrugs and says, "Sure. So whichever of you guys can say you've never done anything wrong in your life, feel free to fire the first stone. Go for it."

(My paraphrasing!)
Carlos illustrates this 2,000 year old story in present tense, daring to admit that he is every character in the story:

the woman (the sinner), the religious leader (the judge), and Jesus (the one with the power to be merciful).

The author is vulnerable to the point where you want to cheer and cringe at the same time, as he shares intimate details of his own life in this journey he invites the reader to join.
Just when you get comfortable thinking it's going to be all about the author and his short-comings and his weaknesses, he challenges you to look at your own propensity to judge.

Ouch.

You soon find that you are just as guilty, just as self-righteous as the religious leaders in the 2,000-year-old story.
But, be assured that this is not a book designed to shame the reader or make him/her feel like a hypocrite.

It's about freedom.

It's about being real, with yourself as well as God.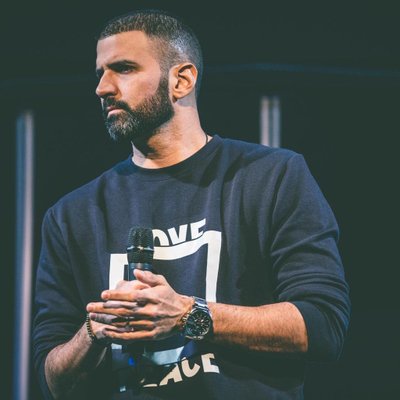 Carlos A. Rodriguez
Drop the Stones
covers child abuse, racism, abortion, sexual orientation, politics, religion – everything we love to have strong opinions about and are brave enough to share behind the shield of social media.

The author looks at each issue, sharing his own prejudices, past and present. (He's a work in progress like the rest of us).
He inserts scripture, breaking passages

down to their sweetest and simplest form to illuminate, not only our own belief systems and biases, but God's take on things, leaving the reader with hope, rather than a heaping helping of condemnation.
To conclude, I want to share a paraphrased passage from the chapter titled, "Ridiculous".

The events described below reduced me to tears, and honestly, solidified the heart of this book.
After ministering at a conference in Medellin, Colombia, the author was approached by a totally undone gang member.

His face was branded with tear tattoos, the kind that identifies the bearer as a gang assassin as well as someone who has been prison-raped.

Carlos could have avoided him.

After all, his branding was proof enough that he was no better, in fact undoubtedly worse than the woman caught in adultery from our earlier story.
Instead, he took this hit-man by the face and kissed each and every tattooed tear.

Soon, the tattooed tears were matched by the liquid variety.

In that moment, the author was demonstrating the love of God, forgiveness and mercy that few humans could ever conceive of having the capacity to offer.

He was in that moment, Jesus.

And in that same moment, Jesus was removing the stones from Carlos' own hands.
Carlos' authenticity as a pastor, teacher, student, writer, and a lover of Truth permeates the pages of this book.

Drop the Stones will challenge you to be kinder, not only to others, but to yourself as well.

In reading it, I was not only looking forward to the author's conclusions, but how my own personal story would be shaped by the truths embedded in each page.
You have nothing to lose by picking up this book, but I can guarantee you have everything to gain.
Note:
Quick Brown Fox always welcomes your book reviews – or any kind of review. If you want to review your favourite coffee shops or libraries, babysitters or lovers (no real names please), go for it. You can read an essay about how to write a book review
here
and see guidelines about submitting reviews of any kind to Quick Brown Fox

here

.
QBF also welcomes essays about a favourite book or about your experience of reading or writing. Read a few essays on the blog to get a taste of what other writers have done (see
here
and scroll down), write your own, and submit it to me at
brianhenry@sympatico.ca
Monica Catto
is an aspiring writer and Social Justice activist working in the Human Trafficking field with the
White Rose Movement
of Toronto. She lives in Mississauga Ontario.
See Brian's complete current schedule
here
,
including
Saturday writing workshops
,
weekly writing classes
, and
weekend retreats
in Algonquin Park, Alliston, Bolton, Barrie, Brampton, Burlington, Caledon, Collingwood, Georgetown, Georgina, Guelph, Hamilton, Jackson's Point, Kitchener-Waterloo, London, Midland, Mississauga, New Tecumseth, Oakville, Ottawa, Peterborough, St. Catharines, Sudbury, Toronto, Windsor, Woodstock, Halton, Muskoka, Peel, Simcoe, York Region, the GTA, Ontario and beyond