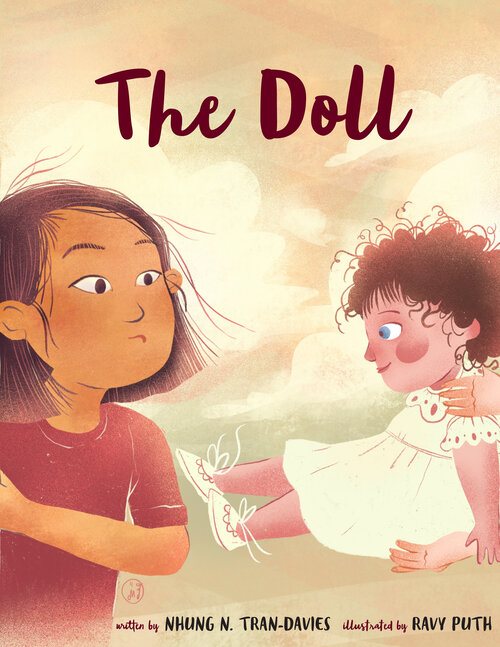 The Doll by Nhung N. Tran-Davies,
published by Second Story Press
Second Story Press
20 Maud Street, Suite 401
Toronto, Ontario, Canada
Second Story Press was co-founded in 1988 by Margie Wolfe and three other women dedicated to publishing feminist-inspired books for adults and young readers.
They publish a mix of fiction and nonfiction, with books for all ages: from babies up to adult. They look for manuscripts dealing with the many diverse and varied aspects of the lives of girls and women, and those that fall under the banner of social justice and children's empowerment.
Like everyone else, Second Story is particularly looking for authors and illustrators from communities that have traditionally been underrepresented in books, including Black and Indigenous creators, and others including people with disabilities and LGBTQIA+ voices.
Second Story focusses on Canadian authors (either citizens or permanent residents of Canada who are currently living in Canada).
Second Story does not publish poetry, short story collections, traditional romance novels, rhyming picture books, or books with anthropomorphized animals. They require non-sexist, non-racist, and non-violent stories.
What Kids Did by Erin Silver
published by Second Story Press
Please include as much information in your query (cover) letter as possible: "Tell us how you see your book fitting into our list, what age it is for (particularly if it is a children's book) and how it is different from similar/competing titles that have already been published (by us or any other press).
Please include a C.V. with information about any relevant work, previous publishing credits if you have any, and academic history (where applicable) particularly for nonfiction. Please include information about what social media platforms you feel comfortable using and where we might find you there."
Adult Fiction and Nonfiction: Please send a detailed synopsis with up to 3 sample chapters.
Children's/Teen Books: Please send a synopsis and up to 3 sample chapters.
Children's Picture Books: Please send the entire manuscript. You do not need to include illustrations if you are not a professional illustrator.
Email your submission to: submissions@secondstorypress.ca
Second Story accepts portfolios only from Canadian illustrators. Please send samples of your work and a C.V. either by mail or by e-mail to illustrators@secondstorypress.ca
Please put Attn: Illustrator's Portfolio on the package or in the subject line. "We will only respond if interested, but will keep your portfolio on hand for future projects."
See full submission guidelines here.
MG & YA author Sylvia McNicoll
one of the guest speakers for the Kid Lit course
If you're interested in meeting an agent and in getting published, don't miss our online How to Get Published workshop Saturday, Nov 28, with Stephanie Winter of P.S. Literary (see here).
And if you're specifically interested in writing and publishing Kid Lit, don't miss our online Writing for Children and for Young Adults workshops with Anne Shone, Executive Editor, Scholastic Books, Saturday, January 30, (see here –waiting list only) and with Kids Can Press editor Kathleen Keenan, Saturday, Feb 27 (see here), plus the Writing Kid Lit weekly class Tuesday afternoons in the new year, Jan 26 – March 23 (see here).
Beyond that, Brian's schedule continues to take shape...
Jackson's Point: Writing Retreat at the Briar's Resort & Spa on Lake Simcoe: The ambiance of a country estate and the comforts of a modern resort – a perfect place to write. Friday, Nov 13 – Monday, Nov 16. Details here.
Weekly classes starting in January (see all winter classes here):
Online: Exploring Creative Writing, an introductory, low pressure course to get the creative juices flowing Thursday evenings, Jan 21 – March 25. Details here.
Online: Writing Personal Stories, nine weeks of creativity and fellowship. Thursday afternoons, Jan 28 – March 25. Details here.
Online: Writing Kid Lit, Picture Books, Chapter Books, Middle Grade books, and Young Adult novels, with enormously talented and experienced authors as guest speakers for two of the classes, Tuesday evenings, Feb 2 – March 30. Details here.
Coming in February:
Online: Writing and Revising, Saturday, February 6. Details here.
Online: Writing for Children and for Young Adults with Kids Can Press editor Kathleen Keenan, Saturday, February 27 (see here)
For more details or to register for any workshop, retreat or weekly class, email brianhenry@sympatico.ca
See Brian's complete current schedule here, including online and in-person writing workshops, weekly writing classes, and weekend retreats in Algonquin Park, Alliston, Bolton, Barrie, Brampton, Burlington, Caledon, Collingwood, Georgetown, Georgina, Guelph, Hamilton, Jackson's Point, Kingston, Kitchener-Waterloo, London, Midland, Mississauga, Oakville, Ottawa, Peterborough, St. Catharines, Southampton, Sudbury, Toronto, Windsor, Woodstock, Halton, Muskoka, Peel, Simcoe, York Region, the GTA, Ontario and beyond.