"What do you mean you're auditioning? Auditioning for what?" Sharon was standing in the bathroom doorway watching her brother.
"For a play. I've always wanted to act. With so many people laid up now's my chance."
"Hey that's mine!" she said.
He pushed her back with one arm. With the other he was applying makeup with wild energy, swathing on heavy flesh tones, darkened eyebrows, deep blush. He looked in the mirror and said, "You are so amazing."
She rolled her eyes at him. "What kind of play is this? A panto or something? You look like an evil Miss Piggy, And with Covid where are you going? We've been asked to stay at home."
He smiled at her with the exaggerated condescension only a brother can give.
She twigged, "Oh, it's online?"
"Sort of." He looked deeply into his reflection and said, "You are working at your most creative peak." His eyes shifted to hers. "I'll record it."
"What's the play about?"
"It's probably about a brother and sister confined because of Covid and sinking further and further into madness." He grabbed a toothbrush, and pretended to stab her. "Murder will ensue."
She jumped back, "Jeez, that's creepy with the makeup. "
"Wait, it'll be better with the electric toothbrush." He turned back to the mirror and said, "Your writing will be electric!"
"You are so weird."
"I'm just doing my Badass Bucket List. Didn't I show it to you?"
She shook her head. "Noooo".
He'd always had his own style, her brother. He had an unusual take on the world that some people found funny, but most just found strange. Sometimes she didn't even ask what he was doing or why he dressed that way.
"Bucket List Item Number 23: Say positive affirmations to yourself in the mirror. That's from the personal development section." He was trying to apply bright red lipstick and talk at the same time. "And in the artistic achievement section, Number 12: audition for a play."
"What did you mean, it's probably about? You haven't read it?"
"I haven't written it yet, but I'd better get at it before my mascara runs." He wiped his lower eyelid clear from a black smudge and said, "You are the most creative person I know."
"Thanks," she said, knowing totally that he didn't mean her. "So, let's see your list."
"But then you'll watch what I'm doing and judge and stuff." He was wiping off a smear of red from his cheek.
"Well it might help me understand your weirdness. Besides, I have one too – maybe we can share ideas."
He rolled his eyes halfway to the ceiling and back. "Oh sure, your list will have cake decorating and origami on it."
'No, turd, and besides whatever it is on the list is supposed to challenge you or scare you. Listen." She pretended to get out a notebook. "Number one: swim with pigs."
He broke wild laughter. "Just go to the pool with your friends."
She whacked him on his arm "Bahamas dodo, it's a thing. Ya, it's kinda touristy but people do go and swim with a herd of pigs."
"Swim with pigs – just shows you how boring tourism is. I mean that's weird - but with Covid you can't go anyway. Besides a little detail, like the money."
"Covid. I hate Covid."
"Yeah, wo doesn't chicky. But let's make lists that are Covid Clear. And possible – no 'if I only had the money' stuff. but first I need to write my Covid Clear play and audition for it, so excuuuuse me."
He pushed past her and disappeared into the dubious mysteries of his bedroom.
***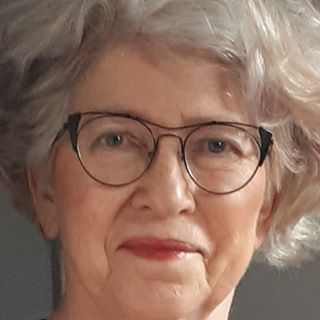 Sheila Eastman is a musician living in Mississauga. She plays and teaches piano and five-string banjo (eee haw) and performs in local concert bands in the percussion section hitting things. Her writing reflects detailed observations of human behavior and her bizarre sense of humour.
See Brian Henry's schedule here, including online and in-person writing workshops, weekly writing classes, and weekend retreats in Algonquin Park, Alliston, Bolton, Barrie, Brampton, Burlington, Caledon, Collingwood, Georgetown, Georgina, Guelph, Hamilton, Jackson's Point, Kingston, Kitchener-Waterloo, London, Midland, Mississauga, Oakville, Ottawa, Peterborough, St. Catharines, Southampton, Subury, Toronto, Windsor, Woodstock, Halton, Muskoka, Peel, Simcoe, York Region, the GTA, Ontario and beyond.