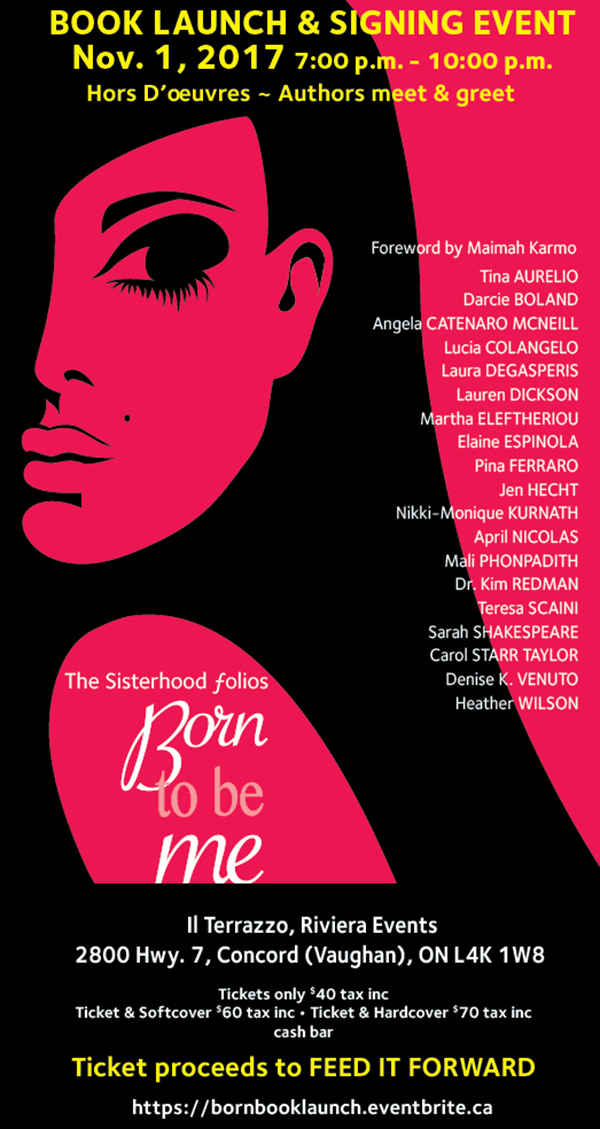 I just wanted to send a quick email to invite you to the launch of a project that is super important and special to my heart. Myself along with 18 other women tell our stories about how we were "born to be us". Life lessons, journies, events and struggles that formed the very women we are. We would love your support, any way you can!
1. Attend our launch and signing Nov 1st!
Ticket Proceeds to an extremely worthy cause Feed Families with the The Feed It Forward Non Profit with Jagger S Gordon.
2. Purchase our book online so that we can become a best seller!
Click

here

to pre-order the book!
3. Share! Share! Share! Anyway you can! Follow my posts on facebook and instagram and share!
See Brian Henry's schedule
here
,
including writing workshops and creative writing courses in Algonquin Park, Bolton, Barrie, Brampton, Burlington, Caledon, Georgetown, Guelph, Hamilton, Ingersoll, Kingston, Kitchener, London, Midland, Mississauga, Oakville, Ottawa, Peterborough, St. Catharines, St. John, NB, Sudbury, Thessalon, Toronto, Windsor, Woodstock, Halton, Kitchener-Waterloo, Muskoka, Peel, Simcoe, York Region, the GTA, Ontario and beyond.