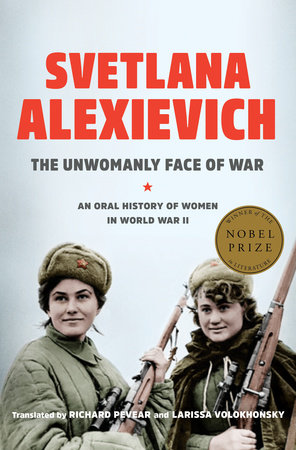 The Unwomanly Face of War: An oral history of women in World War II
, Svetlana Alexievich, translated by Richard Pevear and Larissa Volokhonsky, Random House, NY, 2017.
Sventlana Alexievich knew she wanted to write about the experiences of Russian women in war, but she didn't want it to be yet another book about World War II. When she read I Am from a Burning Village, she realized that interviews – an oral history of the women's experiences – would be her focus. It took years and thousands of train rides to villages across Russia to meet with these women in order to create this painstaking rendering of such desperate stories.
In the introduction, Alexievich tells how she went about structuring her project. She explains how careful she had to be when listening, interviewing and when compiling the war memories of these women. She hoped the women wouldn't exaggerate, understate, clam up, or be unable to remember what they saw, heard and experienced. She needn't have worried. In Russia, Alexievich is well known. In 2015 she won the Nobel Prize for Literature for her compilation of other oral histories which bear a resemblance to this work. She has been credited with a new kind of genre – a nonfiction collection of work wreathed with strokes of fiction.
Women talked openly with Alexievich about where their strength came from, how they endured during the war, and once they were home, how they adapted. Despite the horrors (you may find it hard to read more than 10 pages at a time), Alexievich said the women now laugh and love and describe how getting used to peace was just as difficult as it was to go to war. "The birds forgot the war long before I did."
Many threads of commonality are present in almost all of the stories such as the lack of food; how the reality of participation in WWII was expected in one way or another; and much is said about the men's clothes they had to wear—from the underwear to the size 10+ boots.
The women also shared:
"I had a pair of earrings stashed away. I'd put them on at night and sleep with them on."
"After 4 years wearing pants, I looked at myself in the mirror in a dress. I didn't know who I was."
"After marching for months, some of us had no more periods. But if we did, we would march leaving red spots behind in the snow."
What was it like for them when they returned home? Many said the men wouldn't have them as they were corrupted by fighting alongside men, or perhaps were seen as whores. Their combat roles were dismissed. One recalls when she returned home in a uniform, she was asked what did she do in the war … cook oatmeal? When she said she'd been a sniper with 75 kills, men laughed. With those kinds of reactions, one said, "We were silent as fish. We didn't acknowledge we fought at the front."
This book has birthed the voices of many Russian women most of whom believed their story would never be heard. Even after all the interviews, Alexievich wondered why these women, who had fought so bravely, did not stand up for their own history. She writes at the end, "The phone keeps ringing. I write down new addresses, receive new letters. And it's impossible to stop, because each time the truth is unbearable."
We have witnessed of late how, in the entertainment industry, one woman's telling becomes the catalyst for others to step forward. Some other woman's story of addiction or abuse may give others pause for thought. Or we might ask ourselves who will speak for the missing indigenous women? This book is a reminder to all women: "Don't wait 30 years to tell your story."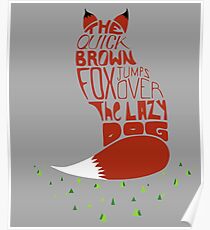 Note that Quick Brown Fox always welcomes your book reviews (or any kind of review). You can read an essay about how to write a book review

here

and see guidelines about submitting reviews of any kind to Quick Brown Fox

here

.
QBF also welcomes

essays about a favourite book or your experience of reading or writing. Read a few essays on the blog to get a taste of what other writers have done (see here and scroll down), write your own, and submit it to me at:

brianhenry@sympatico.ca
Sally Wylie
has published textbooks in early childhood and is now fiction for young children and YA.
"Attending Brian's writing class is the perfect place to hear new stories," says Sally, "and perhaps tell your own."
See Brian Henry's schedule
here
,
including writing workshops and creative writing courses in Algonquin Park, Bolton, Barrie, Brampton, Burlington, Caledon, Georgetown, Guelph, Hamilton, Ingersoll, Kingston, Kitchener, London, Midland, Mississauga, Oakville, Ottawa, Peterborough, St. Catharines, Saint John, NB, Sudbury, Thessalon, Toronto, Windsor, Woodstock, Halton, Kitchener-Waterloo, Muskoka, Peel, Simcoe, York Region, the GTA, Ontario and beyond.