The Patris arriving in Australia in 1966
D-Day had arrived. Not that D-Day
but the long-awaited date of my departure overseas on a Greek liner, the Patris. It was January 19, 1966.

I was 22.
My best friend Regina and I
had survived our pact that we would save for just one year and then set off on a grand adventure, travelling and working our way around the world with no specific return date to hinder our odyssey.

We had decided on just one year in order to stay focused, not allow the opposite sex to get in the way, nor be sidetracked by other temptations.
We announced our intentions to our respective families.

Regina, her brother Wally, and their mother had arrived in Australia in 1947 as refugees from Lithuania after the Second World War.

Mrs. Lipschus was delighted at our plans but my mother did not share her enthusiasm, warning of the dangers that could befall me.

I am sure she sought solace in the thought that our ambitious plan would not come to fruition as I'd never be able to save the money.
To enable our savings to grow, we needed additional income.

We found evening jobs as cleaners from 5.30 to 9.00 p.m. in the P&O building overlooking Sydney Harbour, which housed the corporate offices of P&O Ocean Lines, as well as other companies, organizations and law firms.
In addition, a local fruit market offered me a job on Sundays where I often drew the short straw of spending all day sorting and weighing potatoes into 5 and 10 pound bags.

My nails at the end of such a shift were caked with dirt under which I could have grown my own potatoes.
P&O Building, Sydney, in 1960s
Regina worked on Sundays at a petrol station owned by her uncle.

I also endured eight weeks of waitressing on Saturday nights at a restaurant in one of the rugby football clubs, but was fired after I dropped a tray full of beer over the table I was serving.
I was Personal Assistant to a well known commercial real estate developer, Richard Stanton, where I had been employed since my graduation from college.
It was a hectic office and I rarely had lunch hours in order to arrive on time for my cleaning job.
The landed gentry in Sydney often vehemently objected to one or more of Mr. Stanton's planned high rise office towers, but he rarely wavered and the young architect he had plucked from obscurity years before went on to become one of the country's finest.
Mr. Stanton's other great passion was horse racing.

He owned three champion race horses.

Thoroughbred racing was huge in Australia and attracted all sorts of characters, not all above reproach, especially in the billion dollar gambling industry it spawned.

It seemed that not a week went by without a story in the media about him, cynically referred to as "well known racing identity."

He was a victim of the "tall poppy syndrome," rampant in Australia, where the press, eagerly supported by resentful individuals, endeavour to cut down to size some they consider don't deserve, for whatever reason, the spoils of being at the top.
It was exciting being the centre of attention when reporters swaggered into our office, photographers in tow, seeking to interview him.

I gave my usual response that he was not in, when he was often just six feet away, ensconced in his locked office.

On one occasion the TV cameraman filmed me as I appeared at Reception advising them he was out of town.

This was shown on the nightly TV news with the byline "the elusive Richard Stanton."
I lapped up the notoriety and Mr. Stanton appreciated my efforts in protecting him from media mogul Rupert Murdoch's lethal press.

I appreciated the bonus he gave me every Christmas.
Regina worked as a payroll administrator for an Australia-wide construction company.

We met every night at 5.15 p.m. and proceeded to the basement of the P&O building to change into the required blue cleaner's uniform. We cleaned three floors, two belonging to P&O, one of which was the Accounts Department on the 9th floor and contained wall to wall desks, sometimes still occupied at 7 p.m. by clerks, all male.
Sydney Harbour 1966, P&O ship Oriana at dock
The 10th floor, the executive offices of P&O, included a large boardroom with an enormous table and a built-in bar awash with every type of liquor, and a massive fridge stocked with beer, wine and soft drink.

On Friday nights, totally exhausted but strangely exhilarated, Regina and I lay back in the soft leather chairs, stretched our legs on the boardroom table and toasted ourselves with a drink from the bar, while the other two Lebanese cleaners, looked on in horror and were afraid to join in.
One of the organizations on the 11th floor, was the Dairy Farmers' Corporation of New South Wales.

An elderly gentleman with a large moustache and rimless glasses, was always present.

The plaque on his door, indicated his name was James McDougall, Managing Director.

Unlike the young guns in the Accounts Dept. who averted their eyes when we emptied their wastepaper baskets, he always looked up and said hello.

After a couple of weeks, he asked me why I was working as a cleaner.

I bristled at his question, and brazenly responded, "Why, what's wrong with being a cleaner.

It's honest work."
He apologized and said he didn't mean any offence, but it was rare to see two young Australian women working at that time of night.
I calmed down and informed him of my travel plans with Regina.

He was generous in his praise of our efforts, saying, "I wish my daughter had your initiative."

Every night after that he left cartons of chocolate milk and sandwiches for the two of us, as he knew we hadn't had time to eat before commencing our cleaning chores.
We did our cleaning jobs for six months and then found a position sorting mail five nights a week at the large main post office in downtown Sydney, known as the GPO (General Post Office).

This was 6 p.m. to midnight so much longer hours and a lengthy commute on the train at a late hour, but the much higher remuneration made it worthwhile.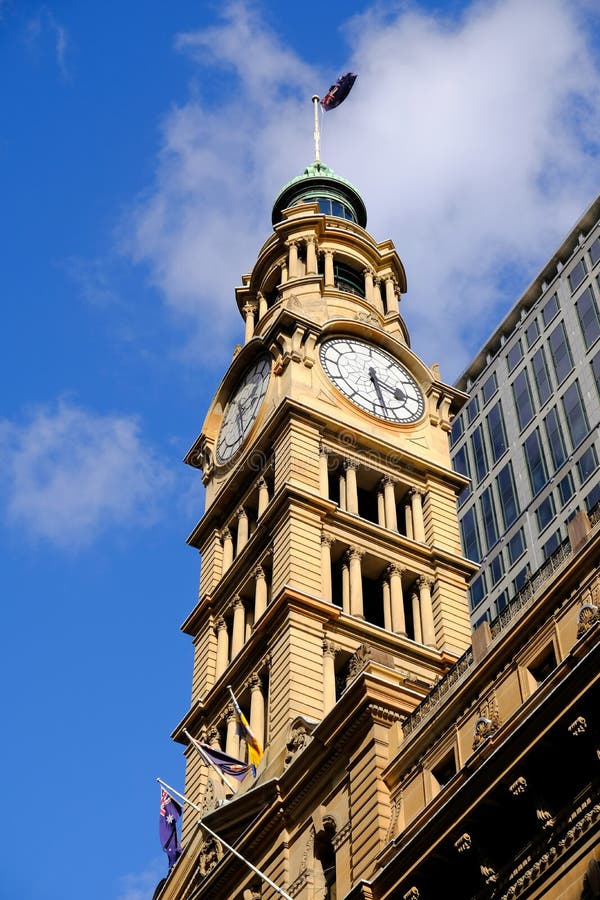 GPO Clock Tower, Sydney
We gave our notice to the cleaning company and on our last night, Mr. McDougall handed each of us an envelope containing $100, and a note saying, "For when you have run out of money and there is just one more thing you want to see."
I hugged him as tears smeared our glasses.

Many years later after I'd returned to Australia, I noticed his obituary in the Sydney Morning Herald.

I never read the obituaries so was sure some divine source had directed me to it.

I went to the funeral and sat at the back of the church, pleased to see the hundreds of people present.

He was a true gentleman.
Our new job at the GPO enabled us to have time to grab a bite to eat before starting our shift.

We became great friends with the Greek owner of the café we attended every night.

He made sure our meal was ready the minute we arrived and served us the best espresso coffee, "to keep you awake," he chuckled.
Sorting the mail was more fun than work.

We sat on high stools in front of a conveyor belt stretching for approximately 30 feet with workers on each side of it.

The mail in varying shapes and sizes was hauled out of large canvas sacks and thrown on the conveyor belt.

As it dashed towards the cancelling machine, which stamps the envelope with the date and location of the post office, we were supposed to sort it into letters which could be fed through the machine and those that couldn't. The mail too big to go through the machine was flung into large bins to be stamped by hand.

Because the stools were so high, my shoes usually fell to the floor and on one occasion I saw them hurtling towards me on the conveyor belt, the culprit roaring with laughter.
The nights rushed by in a blur.

We never felt afraid on our journey home as there were quite a few passengers on the train.

My father met us at our station, dropped Regina home and then on entering our house, well after 1.00 a.m., I was greeted by my mother, who had a bath ready for me and woke me each morning with a breakfast tray.

She also ensured the house was kept silent on Saturday mornings to allow me the luxury of sleeping in until lunch time.
Our year of working endlessly finally came to an end.

Christmas arrived and family who had been instructed to only give us money as gifts were extremely generous.

I handed in my notice to Mr. Stanton in November to ensure he had time to hire a replacement.

He was surprised and promised me a big increase if I would stay.

He also suggested I travel for just six months and my job would be waiting for me on my return. I politely declined his generous offer and was shocked when a week before I was due to depart, his driver arrived with a massive gift basket containing champagne and chocolates and a cheque for $1,000.
It was an emotional scene at the wharf on our departure day.

Tearful goodbyes, hugs and kisses and appeals that I write often.

As Regina and I boarded the ship, we stayed at the railing, waving furiously as it pulled away from the wharf, multi-coloured streamers thrown by the passengers fluttering in the wind, until our families were indistinguishable, but already seared into our memory.
We wiped the tears from our eyes and holding one another, shrieked to the seagulls soaring alongside, "We did it!"
Kay Vollet
was born in Australia.

She travelled extensively in her early 20's, including two years living in Europe before moving to Canada, where she worked for a number of years at the Ontario Legislature for various Cabinet Ministers. On returning to Australia with her Canadian husband, she worked for several State and Federal Cabinet Ministers.

She is now retired and lives in Canada again to be near family.
See Brian Henry's schedule
here

,
including writing workshops, weekly writing classes, and weekend retreats in, Bolton, Barrie, Brampton, Burlington, Caledon, Collingwood, Cambridge, Georgetown, Georgina, Guelph, Hamilton, Jackson's Point, Kingston, Kitchener-Waterloo, London, Midland, Mississauga, Oakville, Ottawa, Peterborough, St. Catharines, Saint John, NB, Sudbury, Toronto, Windsor, Woodstock, Halton, Muskoka, Peel, Simcoe, York Region, the GTA, Ontario and beyond.