Fellie mashed her green and red striped cap onto her pointed
ears and stomped out of the workshop.
"Fellie do this, Fellie do that," she mocked as she hopped on the conveyor belt built for transporting toys. She shoved away a train so she could put her feet up on a building block set as she travelled through an inner tunnel towards the administrative section. She reveled in the blackness that hid her from prying eyes. She was in enough trouble as it was for her lax quality check on tricycles – she'd been demoted to stuffing stockings - and didn't need to get caught contaminating the toy supply with dirt from her floppy shoes or, Santa forbid, sneezing on anything. The decontamination procedures had become candy crazy after the Molly Dollies were infected with the flu last Christmas. All those kids puking the day after they opened their presents. It was not a good look for the North Pole. They'd ended the season with 13 fewer elves who'd been forced to spend a year in banishment with the Abominable Snowman. Fellie might have thought it was actually a reward if it weren't for living in a cave and pooping in a crevice.
So when the conveyor belt arrived next to the big guy's office and she heard shouting, Fellie made the only decision she could. Hide. She jumped off and snuck under a gingerbread desk, which was difficult to do when wearing mandated bells on your shirt and cuff sleeves. But over the years, Fellie had learned how to keep them quiet. It was a skill that came in handy more often than one would think.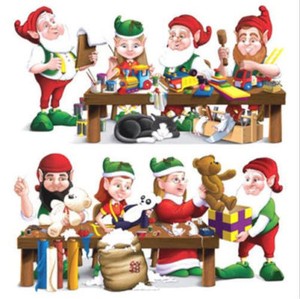 As she waited, she picked off a jujube and three M&Ms. She was searching for a Hawkins cheezie, the secretary's personal favourite and not a standard ingredient, when the overheard argument stopped. She froze, waiting for Mr. Head-of-the-Elfs to throw out whoever dared challenge his kingdom, but no one exited. She considered leaving then but had found the cheezie section so wanted to wait until she polished it off.
Several moments later, as she wiped orange dust on her face – easier to clean than her clothes
–
the door creaked open. She froze, watching as stocking feet crept past her.
S
he peeked out and looked up, past red pants, a black leather belt, a massive belly that shook like a bowlful of jelly, white undershirt, and red suspenders, towards a grey beard and then blue eyes that were most definitely not jolly.
"Fellie, what the red-nosed reindeer are you doing here?"
"Listen here." He crouched down to her level and his belly bounced her back a few feet farther under the desk.
"Stay here for ten minutes, then go into my office, find my empty red coat, and declare my death."
"I just got fired by the Fantastical Creatures board. Tooth Fairy called me herself. It's that flu fiasco we never recovered from. But they can't fire me! I'm leaving for Florida. Let Mrs. Claus mop up the mess. She's always wanted to do more than make cookies anyway. You say I disappeared in a puff of eggnog smoke. The FC board will believe anything."
"On one condition," said Fellie. "Take me with you."
Nancy
Taber
is an academic at Brock University and a retired military member. Her research explores the intersection of gender, militarism, and learning in daily life. She has published multiple journal articles, books, and book chapters but is most proud of her published short stories, one in Fifteen Stories High and one on CommuterLit. She is currently working on two fiction-based research projects: a collection of short stories about women, war, and war museums and a book of historical fiction about Acadian women in 1759, 1864, and the present.
See Brian Henry's schedule
here

,
including writing workshops, weekly writing classes, and weekend retreats in, Bolton, Barrie, Brampton, Burlington, Caledon, Collingwood, Cambridge, Georgetown, Georgina, Guelph, Hamilton, Jackson's Point, Kingston, Kitchener-Waterloo, London, Midland, Mississauga, Oakville, Ottawa, Peterborough, St. Catharines, Saint John, NB, Sudbury, Toronto, Windsor, Woodstock, Halton, Muskoka, Peel, Simcoe, York Region, the GTA, Ontario and beyond.