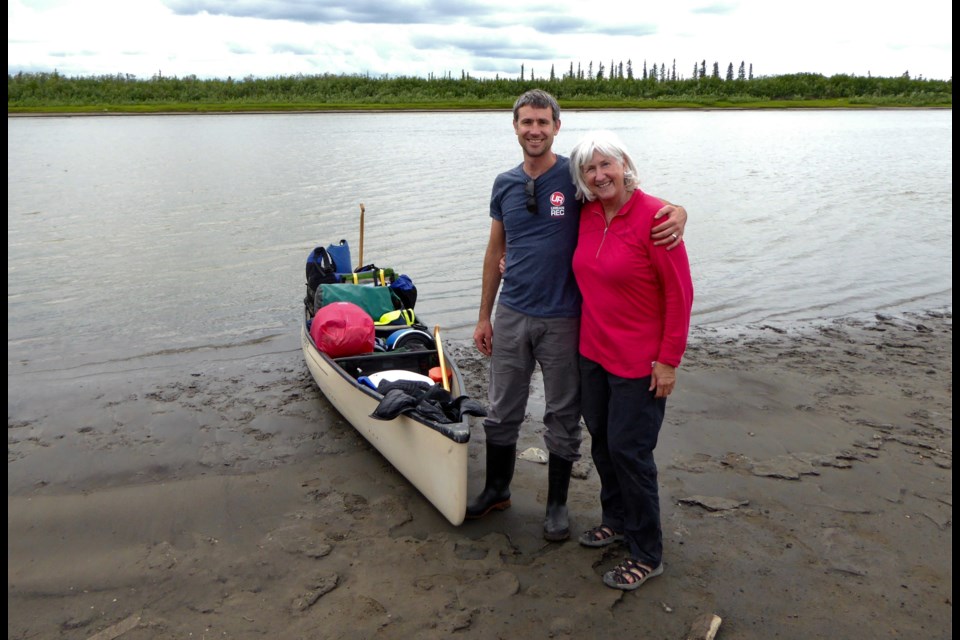 The sound of silence.
Something rare and precious in our busy lives. It was a privilege to be on this river, in our canoe watching the sun kiss the horizon and then gently, slowly rise. We welcomed another day in the Arctic, paddling down the Mackenzie River.
I love Canada's North. The scenery inspires me to return again and again. Our Indigenous neighbours share many gifts of Mother Nature, of thriving in our North.
Inuit life, culture, music and art has established the Northwest Territories as a unique corner of the world.
I've invited my son, Tavis, to join me on a two-week canoe trip paddling from Inuvik to Tuktoyaktuk some 210 kilometers down the Mackenzie River to the Arctic Ocean.
I knew this trip would be an adventure that would require careful planning. I'm also grateful to Kelly, Tavis's wife, for staying home with their two daughters so he could share this journey with me.
My son was in charge of navigation and ordered detailed maps, and a small solar charger for the GPS that used Russian satellites, which allowed our loved ones to follow our progress. I was in charge of arranging all the equipment and packing delicious meals in the bear barrel. I included a case of Sleeman's beer to cool in the bottom of the canoe along with a few bottles of wine.
Getting to Inuvik was an adventure of it's own. I drove 7,500 kms alone, camping in my Aliner. Northern British Columbia was breathtaking. Then there's the Dempster Highway, 735 kms of gravel, mosquitos and mud!
Our first day of paddling started with perfect weather and a calm river. Within hours dark clouds moved in. We headed for shore and quickly set up one tent, before the violent storm arrived . The Mackenzie can be frightening, changing conditions in minutes.
Our outfitter, Kylik, at Tundra North Tours, had warned us of the wind, the storms, the mud that was like quick sand and the grizzlies. The mud scared me the most, because my boots were too big and every canoe exit ended with me on all fours in the river, sinking into the mud. Poor Tavis figured out the best way to get me to shore was to literally pull me through the mud. "Faster Mommerdog….you can do this." I felt useless unloading the canoe, but I could set up my tent and cook delicious meals – the secret is in the spices.
The wind forced us to sleep all day and paddle all night. In July the sun never sets. We'd find a lovely spot to camp, enjoying the wilderness, and a fancy dinner before convincing our bodies it was time to sleep. Paddling from midnight till 6am felt 'normal.' The soft light was magical.
Every Inuit fisherman stopped to chat making sure we were safe in their Territory. It was reassuring to know if we capsized we would be rescued.
The sandbar in the middle of the river was totally unexpected! We thought Tavis would have to push us to the Arctic Ocean. We laugh now, but at the time is was a really bad day.
Another morning we were visited by a curious grizzly bear. I prayed Tavis would remember the instructions on staying calm, getting the bear spray out, and not firing until the bear was only two meters away. That bear took one look at my tall son and ran. We shoved everything into the canoe and ran too!
The weather changed as we paddled towards the delta.
Cold wet days and nights had us looking forward to the whaling/fishing Camp that Kylik promised would accommodate us, and transport us to Tuk.
We were greeted by Gayle and Steve, who recommended we warm up in the comfortable tent with cots covered in caribou skins. The small stove heated the space and we felt like we were in heaven. Their two adorable kids asked a million questions about us. We reciprocated with a million questions about them.
"Fishing and hunting, fishing and hunting". Even their school year revolves around hunting seasons, as it requires all hands securing and preserving food for the year.
The small community of Tuktoyaktuk is known as the Land of the Pingos, famous ancient Arctic landforms created by permafrost and pressurized water.
Joanne at Mile One
Tuk is also Mile One of the Trans Canada Trail.
Flying back to Inuvik over the Mackenzie I knew the memories we created would last a lifetime.
Joanne McAuley
does her best to experience any adventure. Her happy place is paddling in the wilderness, skiing Whistler, exploring quiet country roads on her Ebike, or fiddling French Canadian tunes, especially with other musicians. She retired 8 years ago and is living her dreams every moment of every day.
See Brian Henry's schedule
here

,
including writing workshops, weekly online writing classes, and weekend retreats in, Alliston, Bolton, Barrie, Brampton, Burlington, Caledon, Collingwood, Georgetown, Georgina, Guelph, Hamilton, Jackson's Point, Kingston, Kitchener-Waterloo, London, Midland, Mississauga, Oakville, Ottawa, Peterborough, St. Catharines, Southampton, Sudbury, Toronto, Windsor, Woodstock, Halton, Muskoka, Peel, Simcoe, York Region, the GTA, Ontario and beyond.