I was thrilled
when I was invited to write a review of the town of Port Rowan for Quick Brown Fox. I remember my children were not so thrilled about accompanying me the first time I visited the town, but too bad, I had nothing else to do with them anyway.
Port Rowan is a tiny spot on the map on the beautiful shores of Lake Erie. There are gorgeous beaches nearby including Turkey Point and Long Point and although there is no beachfront in Port Rowan itself, the town bustles as much as it can during the summer and sleeps like a bear during the winter.
As a peaceful, non-confrontational person by nature, I relish the idea of a quieter way of life with less stress. Give me a beautiful beach and lovely countryside and that's heaven to me. I can't say the same for my four city-loving children. At the beginning of this trip, it seemed their positivity disappeared as we exited the city limit.
From Burlington, the drive took us just over an hour and a half, with far less traffic headaches than the usual Muskoka turmoil.
Upon reaching Port Rowan, I immediately fell in love with the houses – century homes with lush gardens full of giant hydrangeas and every perennial imaginable. The kids were all too busy on their IPads and 3DS's to notice.
The main strip in Port Rowan isn't long; blinking is not recommended or you'll miss it. I decided to park and venture on foot to get a better look at the shops' offerings. The kids reluctantly disconnected from their devices and followed.
The town has four women's clothing shops, one men's shop, three antique shops, a drugstore, two candy and kid's type stores, a small grocery store, an ice-cream parlour. It also has two restaurants – one a pizza shop, the other a sandwich shop. Not much to it, but personally, this was my kind of place.
The women's shops featured high quality casual clothes, and the prices were comparable to what you'd find in the city. And with Tillsonburg on one side and Simcoe on the other, it wouldn't be a big deal to make a trip to stock up on anything that couldn't be found in Port Rowan.
After window shopping and taking in the sights, my youngest son decided it was lunchtime. We walked down the street towards the water and spotted a restaurant called The Boathouse.
The restaurant offered a gorgeous view of the docks and an opportunity to sit on the patio or inside. We chose to sit outside and were pleasantly delighted with the selection on the menu. The kids ate their mozzarella sticks and asked for more and said the chicken strips were the best they had ever eaten. The bill was very reasonable too. Bonus.
After lunch we took a stroll down to the end of the pier to admire the shoreline. Apparently many painters set up their canvases each summer to recreate the scene. It is stunning.
The scent of fresh waffles made its way down to us at the water's edge. We followed our noses and landed on the doorstep of Twins, a fantastic ice cream parlour with many, many flavor choices. I had the frozen yogurt with banana and pineapple. It was simply delicious on the homemade waffle cone.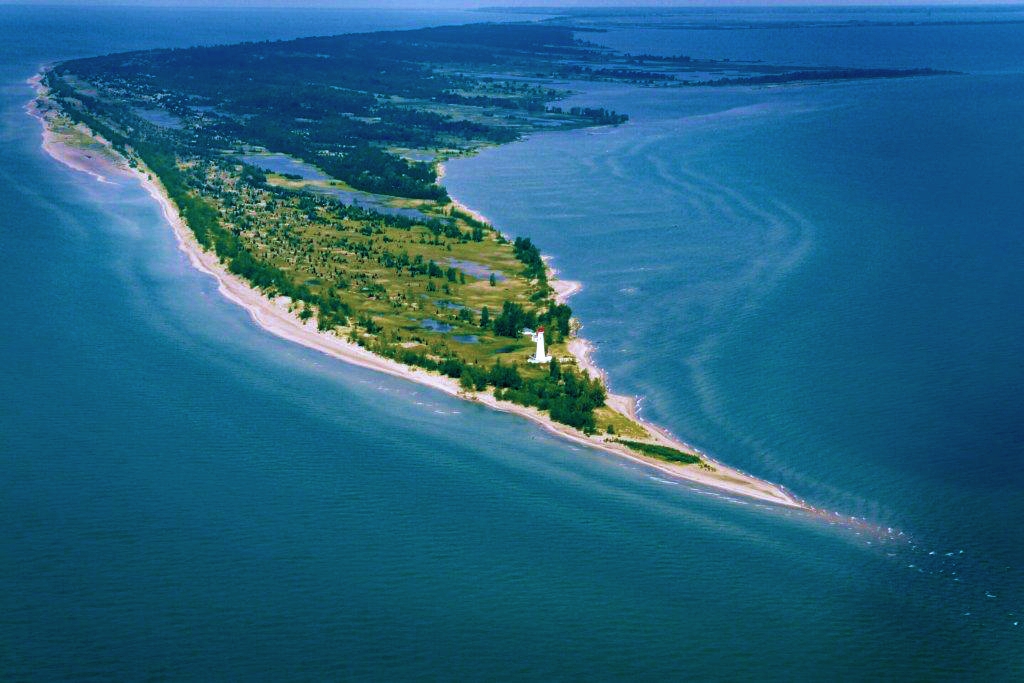 Long Point
Piling back into the van, our stomachs full and the kids much happier than when they started on this journey, we travelled along the lakeshore to see what the other side of Long Point looked like.
I was pleasantly surprised to see a small community of cottages on the waterfront, with their own private beach. Farther along still, we found a small beautiful stone house that I would love to live in. Next door to that home was a big house with its own lighthouse with outbuildings in the back. A sign out front read: Off the Grid. That explained the windmills and solar panels all over the property.
We parked along Lakeshore and walked down a path to stretch our legs. The path led to a secluded beach area with more driftwood than I had ever seen. There were no people on this beach but a black lab ran over to us to greet us with tail wagging. Friendliest dog ever. I would have loved to take her home too.
We played with the dog and walked along the pebbled beach and splashed in the water. The kids found sea glass and special stones and everyone was happy. I felt peace.
We had a great family day visiting Port Rowan. I decided I'd happily pack my bags and buy one of those beautiful old homes when retirement became a reality – though I wasn't sure the kids would want to join me in permanent residency outside the city. I might have to wait until they didn't need me around as much. Until then, I'd put Port Rowan at the top of my list of wonderful spots to visit, especially during the summer. I highly recommend it.
Postscript

That first trip to Port Rowan was a few years back now. In the spring of 2017, we bought a little stone house in Port Rowan. It needs work but we'll tackle that piece by piece. For now, we'll pack up the kids and three dogs as often as we can and take the quick trip to our happy place. Someday, waking up to the view of the lake every morning will be our reality.
Keri Wilby
has four wonderful children and lives in Burlington where she helps manage her husband's tree care business. She loves writing, painting and gardening. Her education in Creative Advertising in college has helped her promote her family landscape business as well as her husband's business. Her dream for the present and future is to help her children fulfill their own dreams, to live in Port Rowan and to write a book … someday.
See Brian Henry's schedule
here
,
including writing workshops, weekly writing classes, and weekend retreats in Algonquin Park, Bolton, Barrie, Brampton, Burlington, Caledon, Collingwood, Georgetown, Georgina, Guelph, Hamilton, Jackson's Point, Kingston, Kitchener-Waterloo, London, Midland, Mississauga, Oakville, Ottawa, Peterborough, St. Catharines, Saint John, NB, Sudbury, Toronto, Windsor, Woodstock, Halton, Muskoka, Peel, Simcoe, York Region, the GTA, Ontario and beyond.