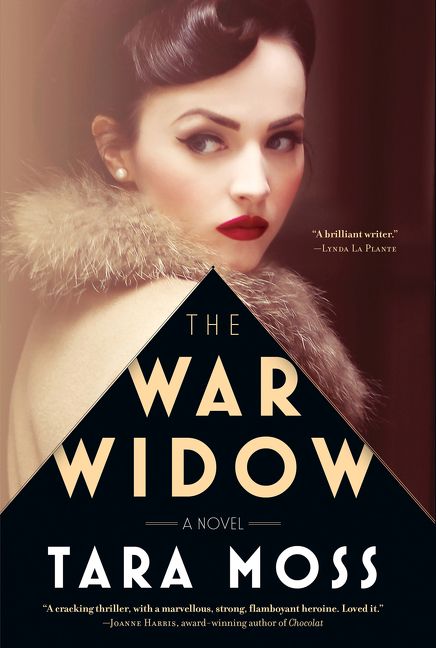 The War Widow by Tara Moss
represented by CookeMcDermid
CookeMcDermid Literary Management
320 Front St. W., Suite 1105
Toronto, Ontario
Note: Don't ever miss a post on Quick Brown Fox. Fill in your email in the Follow Brian by Email box to the right under my bio, and get each post delivered to your Inbox. If you're not yet on my newsletter list, send me an email, including your locale to: brianhenry@sympatico.ca ~Brian
CookeMcDermid was created in 2017 by the amalgamation of two preeminent Canadian agencies, The Cooke Agency and The McDermid Agency. CookeMcDermid is a full-service literary agency . Its agents are especially eager to read thrillers, horror, commercial suspense, speculative fiction, middle grade, YA, research-driven nonfiction, and narrative non-fiction.
CookeMcDermid represents more than 300 writers, among them Man Booker nominees, Giller and Governor General's award–winning authors, prize-winning journalists, New York Times bestsellers, international authorities in their field, and some of the literary world's most notable names.
Clients include Jen Agg, Omar el Akkad, Michael Crummey, Cherie Dimaline, Robyn Doolittle, John Irving, Rupi Kaur, Scaachi Koul, Karen Le Billon, Geddy Lee, Robert Munsch, Maye Musk, Alison Pick, Nino Ricci, Guy Vanderhaeghe, Jeff VanderMeer, and Jesse Wente.
There are nine agents with CookeMcDermid including:
Paige Sisley Paige is an associate agent at CookeMcDermid. She is seeking well-written upmarket fiction that both entertains and has something to say, and she is always on the lookout for non-fiction in the memoir, lifestyle, and health & wellness areas. In addition to managing her own list, Paige oversees CookeMcDermid clients' film and TV rights and handles marketing and publicity for the agency. Previously, she was a rights assistant for Cooke International, an agency specializing in foreign rights management for a diverse group of publishing clients.
Paige has her Master of Arts from Ryerson University's Literatures of Modernity program and a Bachelor's degree in English from the University of King's College and Dalhousie University. A born and bred Torontonian, she lives for a good adventure and has also resided in LA, New Zealand and Halifax. She's on Twitter at @paigesisley
Query Paige via the agency's submissions form here. Full guidelines here.
Note: Paige will be the guest speaker at the online How to Get Published workshop Saturday, Oct 24. Details here.
Stephanie Sinclair is of Cree, Ojibwe and settler descent. She represents literary and upmarket fiction and nonfiction that provokes conversation and strives to challenge the way we think, feel and live.
Her list is curated with political leanings, and proudly includes writers of award-winning fiction and nonfiction including Journey Prize winner Sharon Bala, Griffin Prize winner Billy Ray Belcourt, Joshua Whitehead, Lee Maracle and Harriet Alida Lye. Writers on her roster have been nominated for the Governor General's Award, Scotiabank Giller Prize, Hilary Weston Writers' Trust Prize for Nonfiction, LAMBDA Awards, The Toronto Book Award and many others.
Stephanie spent seven years agenting with the Transatlantic Literary Agency, where in addition to working on her own list, she managed several translation programs. Stephanie is a graduate of the publishing program at Ryerson University, creative writing program at the Humber School for Writers and the Randolph Academy for the Performing Arts. For many years, authors, journalists and theatre writers have benefited from Stephanie's uniquely attuned and effective advice in her work as an award-nominated freelance editor. She is actively growing her list.
Query Stephanie via the agency's submissions form here. Full guidelines here.
Rachel Letofsky Rachel is an agent at CookeMcDermid. She specializes in children's literature (middle-grade and YA with some picture books), literary fiction, historical fiction, narrative-driven memoir and innovative nonfiction for adults.
Her clients include National and International bestsellers, and nominees and winners for awards such as the Kirkus Prize, the Scotiabank Giller Prize, the Governor General's Awards, the Trillium awards, the OLA's Forest of Tree Awards, the BC and Yukon Book Awards, CBC's Canada Reads, the Sunburst Award, the Canadian Jewish Literary award, the Lambda Literary Awards, and the Rogers Writers' Trust Awards. She frequently acts as a judge for writing competitions, and travels throughout North America to writers' festivals and literary events.
When not travelling or reading, Rachel loves spending time with her family, cooking, gardening, planning for the upcoming alien/zombie invasion, and swimming in lakes and oceans as much as possible. Twitter @rachelletofsky
Query Rachel via the agency's submissions form here. Full guidelines here.
Ron Eckel is a literary agent at Cooke-McDermid and co-owner of Cooke International, an agency specializing in foreign rights management for a diverse group of publishing clients. He is a graduate of Simon Fraser University's Master of Publishing program and a twenty-year veteran of Canadian publishing. Ron worked with Penguin Group Canada, Westwood Creative Artists, and Random House of Canada before joining CookeMcDermid and Cooke International.
As an agent Ron is particularly drawn to dark fiction, both commercial and literary, in the areas of horror, suspense, and psychological thriller.
On the nonfiction side, Ron loves pop culture, entertainment, music, pop science, and story-driven current affairs.
Ron's client list at CookeMcDermid includes bestselling author Scaachi Koul, CBC Radio columnist and pop-culture critic Jesse Wente, RUSH bassist and Rock 'n' Roll Hall of Famer Geddy Lee, and horror writers Eric McCormack and Michael Rowe. On his bedside table you will find equal amounts of fiction and non-fiction, but always, always at least one biography (authorized or not) of the Ramones.
Ron is the sitting Vice-President of PACLA (the Professional Association of Canadian Literary Agents) and you can find him on Twitter @roneckel
Query Ron via the agency's submissions form here. Full guidelines here.
Suzanne Brandreth is an agent with CookeMcDermid and a co-owner of Cooke International, an agency specializing in foreign rights management for a diverse group of publishing clients. She has worked in publishing for over 20 years, as an independent bookseller, an editor, and, since 2003, an agent.
Suzanne has close working relationships around the world, frequently travels to New York and London, and has participated in numerous publishing fellowships in Frankfurt, Jerusalem, Taiwan, Turin, and the United Arab Emirates. Suzanne is a hands-on agent and works with her clients to brainstorm and fine-tune book ideas and substantively edit proposals or manuscripts before submission.
Whether literary or commercial novels or evidence-based and narrative nonfiction, Suzanne seeks stories that challenge the mind and/or move the heart. She is the agent for Rupi Kaur's international bestseller the sun and her flowers, CS Richardson's perennial bestseller The End of the Alphabet, and Emily White's ground-breaking Lonely: Learning to Live with Solitude.
Query Suzanne via the agency's submissions form here. Full guidelines here.
Martha Webb is an agent and part owner of CookeMcDermid. Her list comprises literary fiction, upmarket commercial fiction and a broad range of non-fiction, including investigative journalism, memoir (almost always with a particular focus), popular science, history and philosophy, and some (not much) self-help.
She is drawn to rebels and contrarians with a good sense of humour, and to books that are topical, deal with important issues, or strive for social betterment while also being great reads. She values distinctive voices and good storytelling, in whatever form. Her clients include Jen Agg, Michael Crummey, Robyn Doolittle, Cathal Kelly, Tima Kurdi, Saleema Nawaz, Pasha Malla, Zoey Leigh Peterson, and Shannon Lee Simmons.
Martha began her career in publishing in 2005 with The McDermid Agency, of which she later assumed co-ownership prior to the creation of CookeMcDermid. She holds an MA in literature from the University of Edinburgh, and was born and raised in Montreal.
Query Martha via the agency's submissions form here. Full guidelines here.
Sally Harding is a literary agent and co-owner of CookeMcDermid. Her list prominently features research-based non-fiction, and the more literary end of science fiction, fantasy, and speculative fiction.
Unrestrained by boundaries of geography or genre, she finds the channels through which each work will best find its audience. She develops career-long relationships with writers who are deeply engaged with their subject and their craft. For Sally, it's not just about the words on each page, or the stories those words reveal, but the larger questions and dilemmas the writer is exploring through their work. Both a Canadian and a Kiwi, she cheers loudly for both countries. Sally is a member of the Association of Authors' Representatives. She is on Twitter: @SallyCMD
Query Sally via the agency's submissions form here. Full guidelines here.
Stephanie Winter

If you're interested in meeting an agent and in getting published, don't miss our upcoming online How to Get Published workshops Saturday, Oct 24, with Paige Sisley of the CookeMcdermid agency (see here) and Saturday, Nov 28, with Stephanie Winter of P.S. Literary (see here).
And if you're specifically interested in writing and publishing Kid Lit, don't miss our online Writing for Children and for Young Adults workshop with Anne Shone, Executive Editor, Scholastic Books, Saturday, January 30, (see here) and the Writing Kid Lit weekly class Tuesday afternoons in the new year, Jan 26 – March 23 (see here).
Beyond that, Brian's schedule continues to take shape...
Online: How to Write Great Characters, Saturday, Oct 31. Come in costume! Details here.
Online: How to Write a Bestseller, with New York Times bestselling author Kelley Armstrong, Saturday, Nov 7. Details here.
Jackson's Point: Writing Retreat at the Briar's Resort & Spa on Lake Simcoe: The ambiance of a country estate and the comforts of a modern resort – a perfect place to write. Friday, Nov 13 – Monday, Nov 16. Details here.
Weekly classes starting in January:
Online: Exploring Creative Writing, an introductory, low pressure course to get the creative juices flowing Thursday evenings, Jan 21 – March 25. Details here.
Online: Writing Personal Stories, nine weeks of creativity and fellowship. Thursday afternoons, Jan 28 – March 25. Details here.
Online: Writing Kid Lit, Picture Books, Chapter Books, Middle Grade books, and Young Adult novels, with enormously talented and experienced authors as guest speakers for two of the classes, Tuesday afternoon, Jan 26 – March 23. Details here.
For more details or to register for any workshop, retreat or weekly class, email brianhenry@sympatico.ca
See Brian's complete current schedule here, including online and in-person writing workshops, weekly writing classes, and weekend retreats in Algonquin Park, Alliston, Bolton, Barrie, Brampton, Burlington, Caledon, Collingwood, Georgetown, Georgina, Guelph, Hamilton, Jackson's Point, Kingston, Kitchener-Waterloo, London, Midland, Mississauga, Oakville, Ottawa, Peterborough, St. Catharines, Southampton, Sudbury, Toronto, Windsor, Woodstock, Halton, Muskoka, Peel, Simcoe, York Region, the GTA, Ontario and beyond.
Navigation tips: Always check out the Labels underneath a post; they'll lead you to various distinct collections of postings. If you're searching for more interviews with literary agents or a literary agent who represents a particular type of book, check out this post.