"Open up Gord,
I know you're home, I can see the TV on." Butch banged on the door of the dilapidated shack Gord called home. Gord owed Butch 500 bucks and had been dodging him for weeks.
Butch sighed and peaked through the window on the front porch. A football game was underway on the TV set and a lit cigarette smoldered in an ashtray on the coffee table.
Just then, a giant woman in a garish pink floral dress dashed across the room, tripped, and fell face-first onto the floor with a thud.
"Damn." Butch tapped on the window. The woman was still as a corpse.
"Gord, your lady friend just knocked her dumbass out cold. Come down here!"
"Alright fine, I'm coming in."
He reared back and kicked in the front door. The lock ripped a chunk out of the frame as the door swung open.
Butch walked over to the woman lying still on the floor.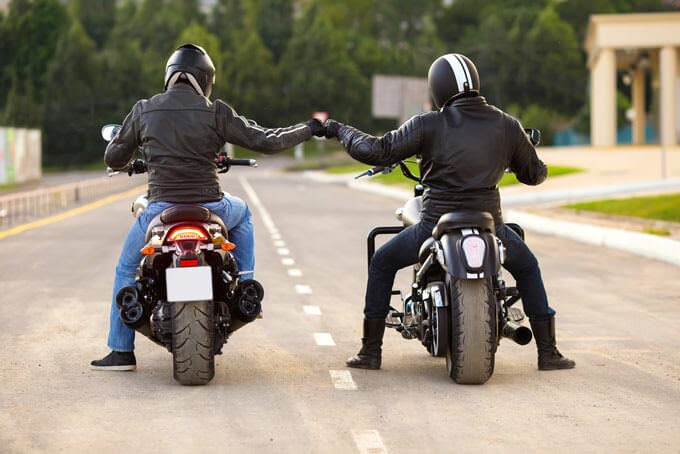 He could only see the back of her close-cropped head. And then he noticed her arms; they were covered in thick black hair.
Those arms belonged to Gord.
Gord groaned and rolled over. He opened his eyes and looked at Butch with alarm. Butch was a full member of the Satanic Falcon Motorcycle Club.
"P-please Butch, you can't tell nobody."
"I can do whatever I damn well please. Where's my money?"
"I-In the drawer, the kitchen top drawer."
Butch kept his poker face which masked his confusion. He opened the drawer and beneath a pile of lipstick and other cosmetics was a wad of cash. He peeled off five hundred-dollar bills, stuffed them in his pocket and turned to leave. As he reached the door Gord pleaded, "Please, Butch, if the guys find out, they'll kill me."
Butch stopped and looked at him. "So, you like wearing red lipstick huh?"
Gord bowed his head. "Yes," he mumbled.
Butch shook his head. "Red's not your colour, Gord. Pink is. It would match your dress perfectly. Why don't you come over tonight and we'll try out some different shades."
Butch pulled down the hip of his jeans a couple inches to reveal a pair of bright pink cotton panties. Gords' eyes lit up with delight and Butch gave him a wink. "But next time, Gord, pay me my money on time."
Matthew Maloney

is an up and coming author who lives in Mississauga, Ontario.
His first collection of speculative fiction short stories

The Last Keeper of the Seal

is set to be released in late 2017 on print and e-book formats.
See Brian Henry's schedule
here
,
including writing workshops and creative writing courses in Algonquin Park, Bolton, Barrie, Brampton, Burlington, Caledon, Georgetown, Guelph, Hamilton, Ingersoll, Kingston, Kitchener, London, Midland, Mississauga, Oakville, Ottawa, Peterborough, St. Catharines, Saint John, NB, Sudbury, Thessalon, Toronto, Windsor, Woodstock, Halton, Kitchener-Waterloo, Muskoka, Peel, Simcoe, York Region, the GTA, Ontario and beyond.