I come from a continent cut from glory,
enriched with fertile soil, on which the world grows. A continent adorned with bronze, embedded with gold, crowned with diamonds. Her tropical
savannas
are blessed with green pastures and still waters. They overflow with milk and honey. Yet every single day she lives in the world's shadow.
For centuries, she was un-mapped. Her mystique convinced colonizers her people were untamed, wild and savage. They called her the Dark Continent. She is not dark to me. She is called Africa. She is my mother. Ma is what I call her.
I was formed in Ma's womb and birthed into her golden arms. Ma taught me all the wisdom that I know about life. In 1992 Ma gave me a map of the world and said, "My daughter, fly anywhere."
So I closed my eyes and placed my finger on her map.
Then Ma looked into my eyes and said, "No matter where you go, your feet will be blessed with the footprints of your history." So I fell asleep in the sky and woke up in the arms of the coldest country I have ever been to.
Canada's cold wind stalked me through the airport. The biting cold tore through to my marrow and I could not understand why. I was so confused. I felt like a vagabond in a chilly wilderness.
Within a month, my identity completely changed. I was called "African," a word I had never heard of before. I quickly realized that all the rich history Ma had taught me was virtually unknown in The Great White North. I was told "African" is a word that was used to describe the ebony-skinned people who came from Ma. However, I have observed the word "Africa" to be meaningless. It is nothing more than an erasure of Ma's history and culture. It limits the diversity of Ma's people to a geographical boundary that the world views as one
homogeneous
place.
Africa is not one country, people, language, cuisine or artistry.
Africa is a continent carved with boarders which connect 54 nations. There are approximately 2,000 languages spoken in Africa. In my country Ghana, more than 250 languages and dialects are spoken. None of them are called, "African." So when you ask me, "Hey Priscilla can you speak African?" Don't be surprised when I look confused.
The people of Africa are a billion shades of brown and ivory who bear souls of ancient cultures. Their mouths tell stories of kingdoms and dynasties.
But the real star of Africa is her food. From dawn till dusk her children cook miracles. Their plates are filled with fresh, organic mouth-watering foods you have never dreamed of.
Dr. Kwame Nkrumah once said, "I am not African because I was born in Africa but because Africa was born in me." His words speak of my identity.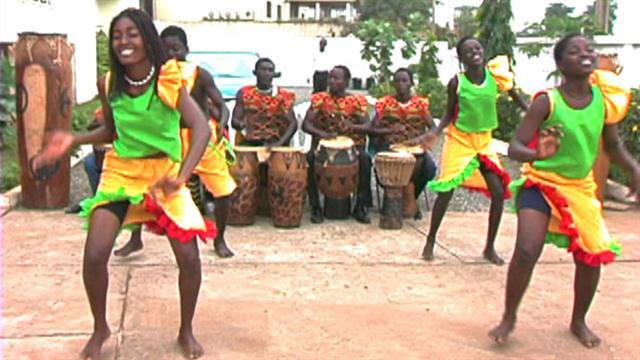 Africa is alive in me. Africa Is my soul, my home, my culture, my heritage and the land of my people.
For me, being African means:
·
To walk in wisdom and stature as the child of the mother of all humanity
·
To belong to a tribe that teaches you the meaning of a community
·
To bear a name with a symbolic meaning
·
To love spicy and savoury food
·
To greet people with hospitality and warmth
·
To love celebrations. We celebrate everything while dancing to the beat of our ancestral drums. For our music is more than an art form;

it is a way of communication
·
To feel the need to switch to my native language to make my arguments more earthy (We call that getting real).
Most importantly, to be African is to live deeply rooted in Ma's heritage and values every single day.
I love Africa. The beauty of her name can never be compared. Even though I live far from her shores, her spirit will forever have my heartbeat.
Priscilla Boateng
is a freelance writer who was raised in Ghana, West Africa, and Canada. Growing up with dual nationalities made her feel like she was constantly crossing borders, spending her days in one country and her dreams in another. This has fuelled her passion to write about her two worlds. She has a Bachelor of Journalism from Ryerson University and a Public Relations certificate from Humber College. She currently lives in Mississauga, Ontario, but is hooked on travelling.
See Brian Henry's schedule
here
,
including writing workshops, weekly writing classes, and weekend retreats in Algonquin Park, Bolton, Barrie, Brampton, Burlington, Caledon, Collingwood, Georgetown, Georgina, Guelph, Hamilton, Jackson's Point, Kingston, Kitchener-Waterloo, London, Midland, Mississauga, Oakville, Ottawa, Peterborough, St. Catharines, Saint John, NB, Sudbury, Toronto, Windsor, Woodstock, Halton, Muskoka, Peel, Simcoe, York Region, the GTA, Ontario and beyond.